There are more and more people talking about video games on a regular basis. This is probably one of the reasons why many celebrities and athletes have become part of the gaming landscape. Professional baseball player Hunter Pence has showcased his love for video games on many occasions. On the basketball side, there are many NBA players who have invested their money into esports. So, why wouldn't Dennis Smith Jr. come out with a custom pair of shoes inspired by gaming?
Is It The Shoes?!
In this case, it just might be the shoes. The Under Armour licensed pair of basketball shoes were designed to reference not only his playstyle on the court but also a longtime character in the Mortal Kombat series, Sub-Zero. The character is a favorite of Smith, allowing for a nice color swap on the UA Anatomix Spawn MK 11 Sub-Zero.
For all of you sneakerheads, it should be known that these are a limited edition release. It is unclear as to the quantity that will become available. Also, I will not apologize for that NBA Jam reference, especially after meeting the voice of NBA Jam (Tim Kitzrow) at the Midwest Gaming Classic this past weekend.
Down + Back + LK
The sneakers house quite a few references to Sub-Zero in their design. The shoe features "a navy and blue upper – a nod to Sub-Zero's armored vest – with frozen detailing throughout the upper, lace keeper and translucent icy sole." If you're on the hunt for the Mortal Kombat logo itself, you'll have to peel back the tongue, look at the insole, or find it on the aglets.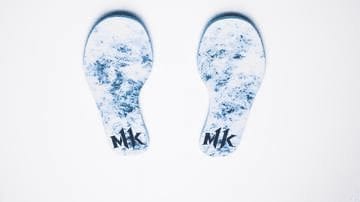 Side note, the aglet of a shoe is the small hard portion at the end of a shoelace. I was today years old when I learned that.
The UA Anatomix Spawn MK 11 Sub-Zero will be available for purchase on April 26. They will only be available through the official Under Armour website. Mortal Kombat 11 releases on April 23.