The little big world of Grounded has been a hit with gamers since it launched in Early Access back in late July. Since then, Obsidian has been hard at work turning out patches and making improvements to its Honey I Shrunk the Kids-inspired backyard survival game. The Grounded patch 0.1.2 went live today, which marks the second update for the game, just days after patch 0.1.1. Today's update focuses on different problems though, including the non-spawning resources found throughout the world.
The critical issues Obsidian addressed should help to reduce game crashes and prevent saved profiles from going missing. The "Kill Mosquito" quest was specifically mentioned, which caused the game to crash if players killed anything besides the mosquito. Talk about a pest of a bug. Additionally, crashes related to traps, the loot backpack UI, and juice drops have been fixed as well.
Explore with confidence
Crowd control was also a priority in this patch, as an infinite larva spawn bug had produced hordes of the grubs. While this may have pleased Timon and Pumbaa, Grounded players shouldn't miss the larva.
Obsidian threw in some temporary workarounds for the Grounded patch 0.1.2 also. One such instance is that the developers reverted the change to lock containers to one player at a time since it was causing containers to stay permanently locked occasionally.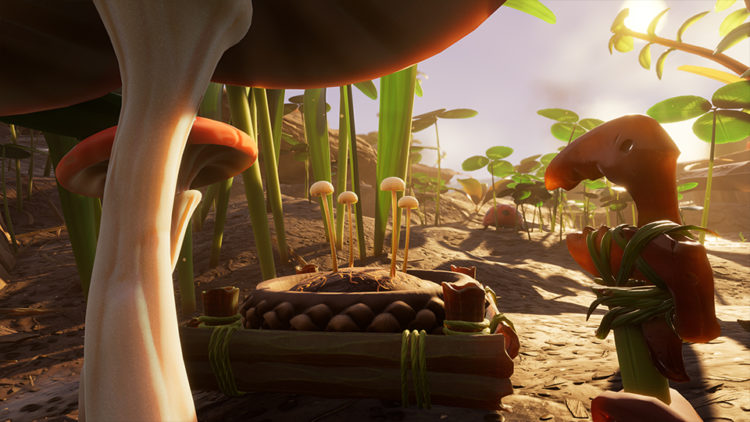 The rest of the patch was just related to fixes. Players will no longer experience the issue with Slime Mold Sconces not turning back on after loading back into a game. Obsidian also fixed the "Drop All" function not properly splitting items. Additionally, Mushroom Gardens, Dew Collectors, Acorns, and other resources will now respawn as intended. That's about it for the patch, but you can check out the original release on the Grounded developer blog.
Grounded is moving along swiftly in development, with new areas, items, and buildable structures in the works. You can purchase the game now in Early Access for $29.99 to experience it for yourself. It seems to be pleasing its ever-growing fanbase.