Gaming laptops are about to get interesting. During Computex 2019, processor chip company Qualcomm put on a clinic against one of its rivals, Intel. The manufacturer pitted its newest Windows 10 custom Snapdragon 8cx processor versus an Intel Core i5. The results should raise eyebrows for some of you gamers on the go.
The Snapdragon 8cx outperformed its competition in many ways. Since this is an up-and-coming laptop processor, Qualcomm began by comparing what its chip can do with usual tasks. A laptop installed with the Snapdragon went up against a similar build but with the Intel Core i5-8250U (3.4GHz). The Snapdragon, however, pulled ahead of its competition in Windows programs. In PowerPoint, Word, and Edge, Qualcomm's machine scored higher marks. It only faltered when running Microsoft Excel.

Pushing pixels and power
Of course, Qualcomm's processor is designed for more than browsing the internet and typing up documents. The company has been boasting of the graphical prowess of its chip, promising up to two times the power of the Snapdragon 850. Using Night Raid, a DirectX 12 graphical benchmark, for the test, the Snapdragon 8cx once again rose above its competition. Compared to the i5, it was able to push up to 37.10 frames per second against 29.47 for the Intel. Take note that both machines were running at full HD during the benchmark.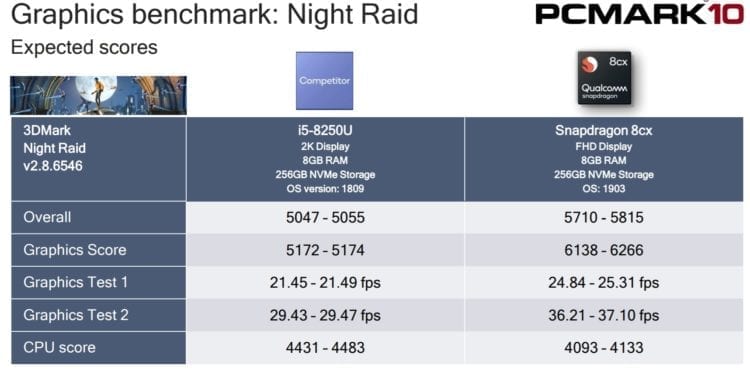 One of the most important aspects of a laptop to consider is battery life, naturally. After all, no one wants to be stuck traveling or at an exposition with a dead laptop for company. The battery life benchmark for the Snapdragon 8cx has some good news, however. Against the Intel i5, the Snapdragon reaches up to twice the battery life. When running apps, the Snapdragon was shown to get up to 17 hours, while its competition got up to 10:21. While playing videos, it nearly hits 20 hours of life, against around 12 for the i5. Idle, the Snapdragon manages almost a full day.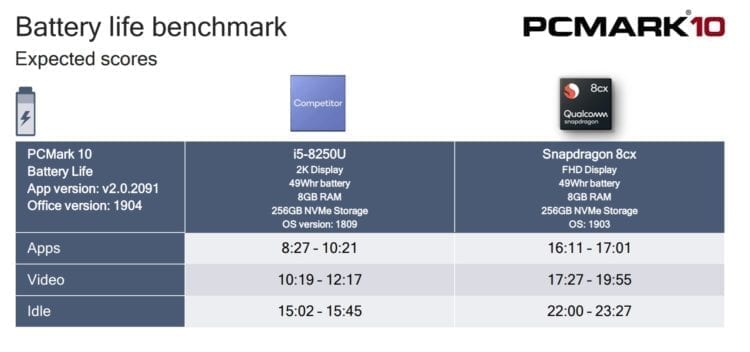 If there is any mark against the Snapdragon 8cx, it's that Qualcomm hasn't announced any partners yet. This means that it could still be some months before the chip finds its way into laptops. It also means, of course, that there are no prices against which we can compare those of laptops running processors by other manufacturers. Regardless, the future looks bright for laptop owners, and Qualcomm could very well be the torch to light the way.