With the RX 6600 XT reveal set for tomorrow, some graphics cards manufacturers have jumped the gun and teased their own models ahead of time.
PowerColor teased its new Red Devil and Hellhound graphics card designs via a recent tweet. This news comes just one day prior to the RX 6600 XT's expected announcement at the Chinajoy 2021 event. The Red Devil card features bright red accents similar to that of the RX 6700 XT Red Devil. However, the new design seems significantly smaller and could potentially sport a dual-fan cooling system as a result. The Hellhound design remains unchanged based on the image, but it could still feature some alterations that we are unaware of.
PowerColor isn't the only graphics card manufacturer to tease the RX 6600 XT prematurely. In fact, Gigabyte was even faster to leak two models of the unreleased RX 6600 XT in a tweet by the Aorus Spain account. Just like with PowerColor, Gigabyte's RX 6600 XT series will include two models. The Gaming model (red) appears to have a 2.5 slot form factor whereas the Eagle model (blue) appears to be a thinner dual-slot card. It is still unclear how the two cards differ in terms of design but both versions look to feature a triple fan design. According to Gigabyte, these cards provide "incredible 1080p gaming performance." The tweet has since been deleted but not before images of the cards were captured and shared online.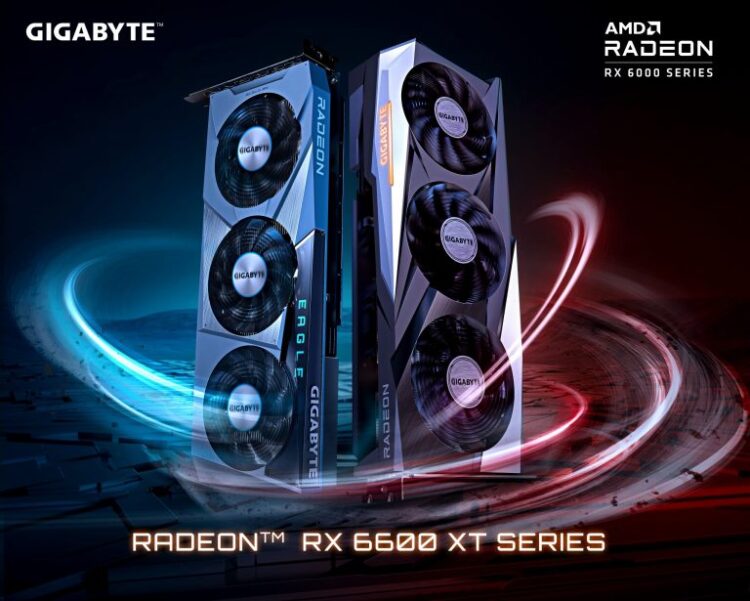 It's expected that the AMD Radeon RX 6600 XT will feature a Navi 23 GPU and offer mid-range specs, as well as 8GB of GDDR6 memory across a 128-bit interface and a bandwidth of 256 GBps. The RX 6600 XT is also expected to come with 2048 Stream Processors in addition to a 32 MB Infinity Cache. There hasn't been any concrete evidence in regards to pricing yet, but most rumors point to an MSRP of $399 USD.  It's possible that the RX 6600 XT's price will be announced during tomorrow's Chinajoy 2021 event. According to rumors, the full launch will reportedly take place on August 11 and an abundance of stock is expected.
What do you fancy… Red Devil or HELLHOUND?
Soon…
The RDNA2 family is growing.. pic.twitter.com/8kTw0w7GXJ

— PowerColor (@PowerColor) July 29, 2021