I've been playing American Truck Simulator for several years at this point. It's amazed me how much SCS has improved it (and its sibling, ETS2) over these years. Every few months there are major new updates that add new stuff into the game, thus giving it a new lease on life. In their latest project, the developers are attempting to bring some ear candy into the mix with the introduction of FMOD support and also rollable windows, a heavily requested feature. Thanks to the latest 1.37 public open beta, these features are finally usable by the community. I've spent some time playing this new version of the game, and to say the least, I've walked away pleased.
Let the music play
Without a doubt, the improved sound system is really the biggest new feature of the beta for American Truck Simulator. The enhancements were audible to me basically as soon as I turned my truck's engine on. To get the most out of it all, I'd highly recommend either using headphones or a good surround sound system. I opted for my Bluedio over-the-ear headphones, and the difference legitimately made me crack the biggest kid smile.
Both windows of the truck can be rolled down. What makes this effect cooler is that the behavior of sound waves is simulated rather well. Simply cracking open the window will realistically let just a bit of outside sound into the cabin. If you let it roll down completely, you'll hear the outside sound gradually pour in. Vice versa as it raises back up — the sound will gradually fade out. If you have only one window open, the difference becomes very apparent, especially if you're wearing headphones. It made my ear slightly fatigued to hear only one side of outside noise coming into the cabin, so I typically opted to just drive with both windows down.
One thing is for sure — the new sound effects are loud. SCS wasn't lying when it said it's made improvements to environmental sounds and AI traffic for American Truck Simulator. You can hear engines from vehicles that are even several meters away. This only became truly apparent to me when I decided to pull over to jot down some notes. My truck wasn't too far from an intersection, and I left the windows down. I also turned the engine off and disabled the in-game radio. As I was there writing, I could make out individual vehicles as they pulled up to the stoplight and pulled off. Anytime one of them would turn in my direction and pass by, the Doppler effect was audible. That's the difference in pitch as a noise (such as an engine or siren) approaches you and when it moves further away. So, in layman's terms, it does sound rather authentic as a vehicle passes you by. I even heard the clanking of a train that was a good distance away from me, though still visible. It, too, had the Doppler effect.
As an added bonus, different sound levels can be adjusted to each player's liking. So, for instance, you can raise the bar on engine sounds but lower it for environmental sounds. I left most of them either at their default position, which is 50%.
When actually driving, the engine of my truck poured into the cabin with no remorse. The difference between hearing it with the windows up versus down couldn't be clearer. This is especially apparent when using the in-game radio. With the windows up, I can leave the volume at a fairly moderate level. If I turn even one of the windows down, however, that volume has to get pushed up to compensate for all the extra noise that's in the soundscape. Again, this is pretty realistic. That said, there are some omissions that, if added in, would really complete the harmonics of the new sound system.
Sound of silence
For one, I was expecting to hear the sound of the wind roll through my truck's cabin as I barrel down the highway at 70 MPH. That isn't really the case. The sound of the truck's massive engine drowns out the sound of the wind, assuming that it's even there at all (which I don't really think it is). I'm not sure how hard that would be to implement, but it would make the effect more believable.
After all, when driving a real vehicle the sound of the engine with the windows down (assuming it's not a loud engine) is most apparent when driving either slow or idling. With the windows up, it is extremely quiet in the cabin. While it is cool to hear the hums and rumbling of the engine as it shifts gears, it would be cool to turn on the A/C too. While it has no gameplay advantages, the sound of the blower would be pretty authentic (and therapeutic, if you're strange like me).
Another oddity I noticed in American Truck Simulator was the differences in environmental sounds. When I picked up a job from a scrapyard in Oregon, there was a lot of metallic banging and sawing; this is to be expected from such a place. From there, I picked up a wheel loader, which I then transported to a construction site in Nevada. Similarly, it was also a loud area with drills and hammers being audible. I found this pretty nice, but then I passed a skate park as I was doing another job. While there were animated people in the park, it was eerily silent. Even though I turned my engine off, it was still silent. This job that I was completing had me transport limestone to a mine. I was expecting it to be fairly loud like the other job sites, but this time, there was nothing. One last job had me going to a smelter in Utah, and there I heard the large "humming" of big machinery while I was parking the trailer.
I'm not sure why some areas in American Truck Simulator have a sound effect while others don't. But this is likely a product of this being the first implementation of FMOD into the game. SCS has stated that it will be making adjustments as it receives feedback and cautions that the sound system is subject to change by the time it's fully released as a new stable game version.
Coming along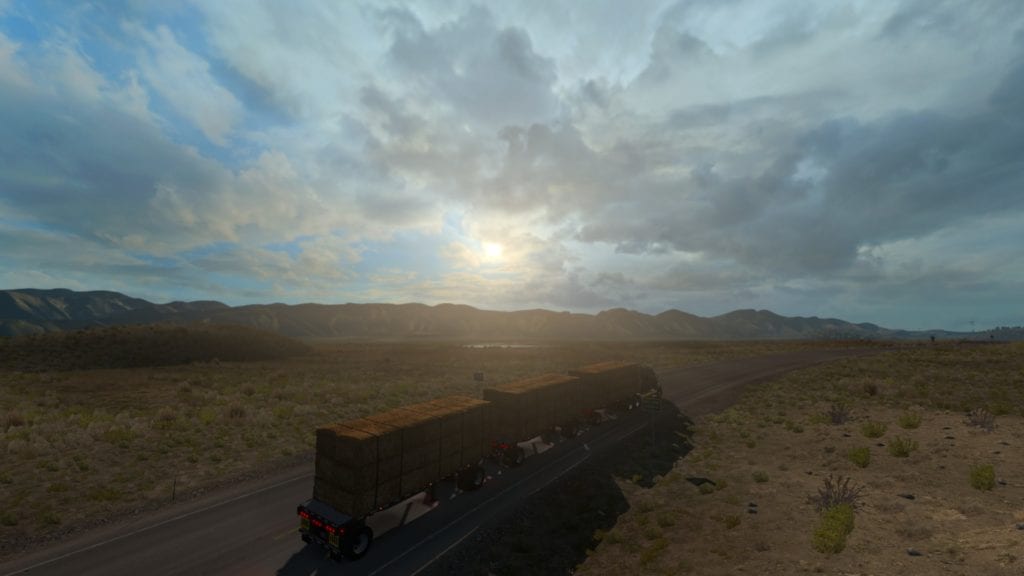 Overall, the whole new package for American Truck Simulator checks out pretty nicely. SCS hasn't really provided a roadmap for when we can expect a full release. However, this beta does prove that progress is coming along.
The next big step for American Truck Simulator is the release of the Idaho expansion, which also has an unknown release date. More than likely by then the new functionality will be fully integrated. I'm looking forward to seeing how ATS continues to grow and become more refined.