Developer: Amanita Design
Publisher: Amanita Design
Release Date: April 19, 2012
Platform: PC
Reviewed by: Toddziak
---
The developers at Amanita Design are totally ingenious beings and they keep proving it over and over again. But if you happened to be raised under a rock somewhere near the North Pole and you never ever heard before about those brilliant Czechs, it's high time to amend this scandalous oversight. The opportunity presents itself quite conveniently, since the newest game from the team, Botanicula, made its debut just a few days ago. So let's not waste any more time, shall we? The fantastical-botanical-bugical adventure awaits!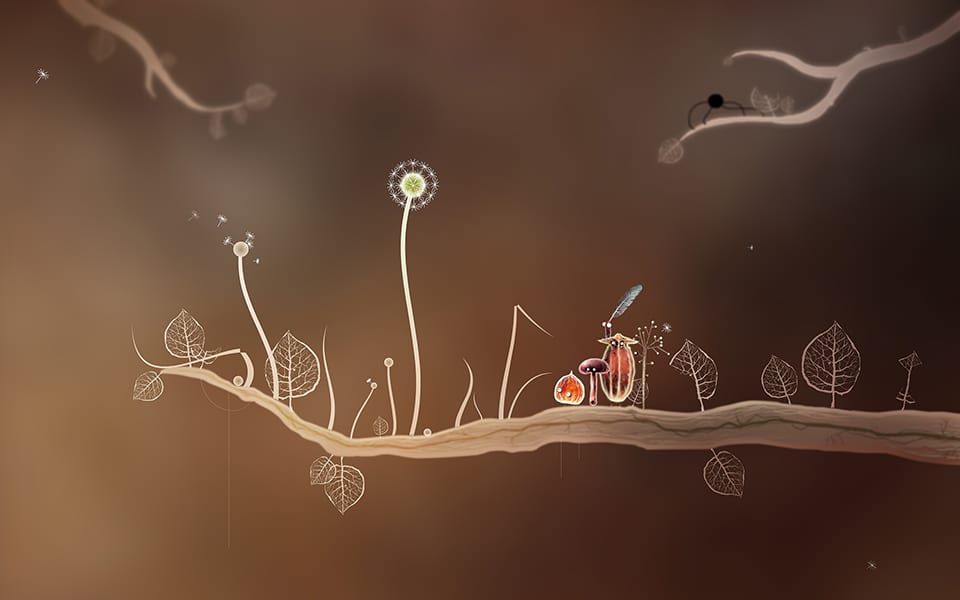 The story in Botanicula isn't very sophisticated. We play as a group of tiny, plant-like creatures who have to save the last seed of their hometree from the evil legs of big spiders, who plan to destroy the whole of nature. I can guarantee you though, that while playing you won't be upset by this plot simplicity. Well, the thought will never even cross you mind, because you'll be too busy grinning to yourself from ear to ear. That's right, Botanicula is the best antidepressant that you can get without a doctor's prescription. The game enchants us with almost everything. Starting with absolutely charming main heroes, through great audio-visuals and ending with unbelievable creativity of the authors while designing the levels. I could just now copy-paste the whole entry "wonderful" from any thesaurus and still I wouldn't give the game the justice it deserves. What are you even doing still reading this text? Go and play it yourselves!
However, if you possess a Jedi Masters' patience you may linger a while longer. All that admiration is well deserved, but what is Botanicula anyway? Well, it's obviously an adventure game, but an adventure game made by Amanita Design, so it differs from typical point'n'click games. For instance, you don't collect here tons of various items, which is quite characteristic to the genre. It is true, that you do pick up certain objects like keys to open a padlock, but the core of the gameplay lies with manipulating the surrounding. In each location we see lots of places that can be tempered with. To give an example: we can move a leaf, find some kind of bug beneath and then click on it to stress the poor creature out. Finding the right order of clicking stuff on the screen is a path to victory. Occasionally, you can test yourself in simple mini-games, which diversify the gameplay a bit. You will also encounter some tasks demanding the usage of abilities of a specific hero from our brave group to save the day.
What is, in fact, the best feature of Botanicula is that the lion's share of the things that we can do here is not obligatory. Nobody forces us to click on the frogs bathing in the pond, but if we do it, we will be rewarded with their cheerful song. For each discovered secret we get a collectible – a special animated and voiced "character card". We can browse through our collection anytime, which is simply fun. All of that makes the exploration in Botanicula really fulfilling experience and we constantly want to keep going and finding new things just to absorb as much from this beautiful world created by Amanita Design as possible.
The puzzles, which will pop up on our path to saving the botanical universe, may not be overwhelmingly difficult, but they operate on a higher level of abstraction. Everything makes perfect sense though, but we need to go deeper into this twisted logic and think outside the box. Even when we get stuck somewhere for a period of time, Botanicula still remains a very relaxing and feel-good game. This production simply punches you right into the heart with its optimism and charm, while the disarming humour will make everyone smile, maybe apart from the hopelessly gloomy individuals. I spent with Botanicula three hours and I don't regret a single minute. I even think about playing it again soon. It may seem that three hours is not much. Well, not necessary in this case. I usually bash mercilessly short games, when they do not reach the peak of their potential, but with Botanicula I don't really feel the need to criticise. I think that the game is just perfect in terms of length – big enough to provide unforgettable journey for the player, but also short so as not to tire the player with its cuteness. In my opinion, Amanita Studio have balanced the game duration brilliantly, but I will understand craving of others to spend more time with our heroes. Maybe in a sequel?
In the technical department there is nothing that I can pick on, because I'm still dissolving in amazement over the quality of this game. The graphics is simple, but colourful and purely charming, just like the design of big and small creatures that we encounter on our way. To be honest, words "adorable" and "cute" fits the description of each element of Botanicula. The locations were mapped in a creative way and while exploring them we wonder all time what great stuff lies ahead of us. We shouldn't forget about the brilliant soundtrack. It matches the events on the screen perfectly. The main theme "Juchu", which plays in moments of our triumph, is still resonating in my head even as I'm writing this review. As like in the other Amanita games, there are no dialogues here in any understandable language, but the characters talk in some kind of "flowerish" or "buggish" dialect. This of course, following the well-established trend, is so cute that it can cause hearing diabetics. The sound effects are also great and nothing can top them. Just ohs and wows and nothing to add.
I'm just completely enchanted by Botanicula. This game is a pure joy remade into the most adorable adventure game this year. It's the ultimate anti-angst production. Buy without any second thought on Steam or in a Bundle. Let Amanita Design get rich because of Botanicula. The guys really deserve it.
---
 -Pros-
+ overall cuteness and adorableness
+ the creativity of the created world
+ brilliant audiovisuals
+ tons of non-obligatory things to discover
-Cons-
– I can't see any through my pink-and-flowery-tinted glasses
 9/10
Botanicula Can Be Purchased at GOG.com for $9.99
You can also check the Polish version here: https://www.adventure-zone.info/fusion/articles.php?article_id=1371