Cassie Cage stars in this latest reveal trailer for Mortal Kombat 11, as seen from today's Kombat Kast. Facing off against her parents' sworn enemy, Kano, Cassie shows off some new moves, with help from her drone companion.
As the story trailer pointed out earlier, Cassie Cage is making a return to the Mortal Kombat roster. The Special Forces commander debuted in Mortal Kombat X as the snarky daughter of Sonya Blade and Johnny Cage. She was certainly a formidable fighter in the previous game. Hers was a fighting style that took some inspiration from her parents, strengthened by military training. In the reveal, she clearly has sharpened her skills, using a blend of martial arts and gunplay eerily reminiscent of Injustice 2's Red Hood.
But she definitely has some new tricks in her toolkit. Cassie's hidden power passed down by her father Johnny was awoken in the events of the previous game. Now, she appears to have a better grasp on how to weave it into her style. Wrapped in a green aura, she can use something similar to Johnny's shadow kick. Of course, she wouldn't be a Cage without some Cage moves. Other than being able to perform the classic ball punch, she also shows off a grab move, where she positions Kano for a flying drone attack straight to his sensitive region. Like father, like daughter.
That's not all the help she gets from the drone companion. Grabbing the drone, she propels her shadow kick across the screen. Cassie can also apparently transfer the aura to the drone, turning it into a projectile. She can also reflect her bullets off the drone, for some reason. I'd say it would probably be more prudent just to fire the gun straight without the theatrics, but OK.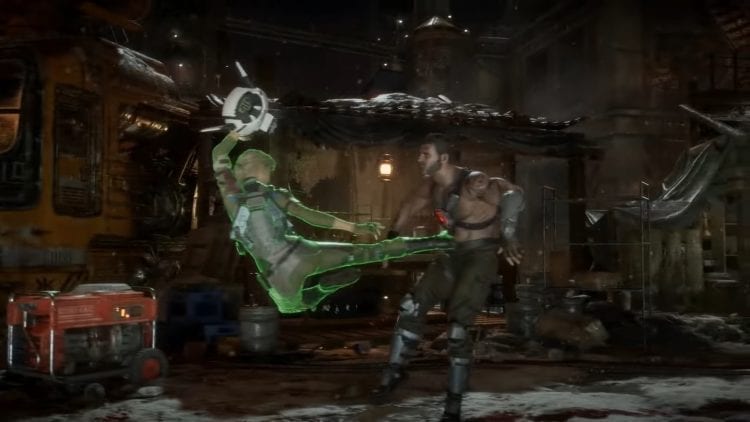 Learn From The Best
What I thought earlier was her Fatality is actually her Fatal Blow. Using the green aura, she wraps her fists and bullets and shows Kano how she really feels. Still, I don't think I can be faulted for the Fatality mistake. I mean, it's brutal and flashy enough to be a Fatality. But naturally, in typical Mortal Kombat fashion, what you think is violent isn't quite violent enough.
Her actual Fatality seems to be another nod to the Cage legacy. Using her gun, she carves Kano vertically up the front. Afterward, she delivers a swift kick (again) to Kano's dangly bits, sending his skull and spine flying from his body. What is up with this family and hitting dudes in the pills? It's not cool.
Cassie was one of three fighters revealed earlier today. Going by today's reveal, we still have Erron Black and Jacqui Briggs coming up. We should know who is next when the Kombat Kast returns next week.