Zeus' Duo boons
| | | | | |
| --- | --- | --- | --- | --- |
| Aphrodite | Smoldering Air | The Call Aid gauge charges automatically but it's capped at 25%. | Thunder Dash | Heartbreak Flourish or Aphrodite's Aid |
| Ares | Vengeful Mood | Revenge effects can occur without you taking damage. This Duo boon requires at least one "revenge" effect from any god (ie. Zeus' Heaven's Vengeance, Aphrodite's Wave of Despair, Athena's Holy Shield, or Demeter's Frozen Touch) | Lightning Strike, Thunder Flourish, Thunder Dash, Electric Shot, Thunder Dash, or Heaven's Vengeance | Curse of Agony, Curse of Pain, or Curse of Vengeance |
| Artemis | Lightning Rod | Casting ammo (bloodstone crystals) proc a lightning strike on nearby enemies. | Lightning Strike, Thunder Flourish, Thunder Dash, Electric Shot, or Zeus' Aid | Deadly Strike, Deadly Flourish, True Shot, Hunter Dash, or Artemis' Aid |
| Athena | Lightning Phalanx | Your cast bounces multiple times between enemies. | Lightning Strike, Thunder Flourish, Thunder Dash | Phalanx Shot |
| Demeter | Cold Fusion | Jolted effects no longer expire when enemies attack. | Static Discharge | Frost Strike, Frost Flourish, Mistral Dash, or Demeter's Aid |
| Dionysus | Scintillating Feast | Festive Fog deals lightning damage periodically. | Lightning Strike, Thunder Flourish, Electric Shot, Thunder Dash, or Zeus' Aid | Trippy Shot or High Tolerance |
| Poseidon | Sea Storm | Enemies that you knock back are also struck by additional lightning effects. | Lightning Strike, Thunder Flourish, Electric Shot, Thunder Dash, or Zeus' Aid | Tempest Strike, Tempest Flourish, Flood Shot, Tidal Dash, or Poseidon's Aid |
Zeus' Duo boons in Hades will, obviously, focus on generating additional lightning strikes (which is fun to watch). He also has a Duo boon with Aphrodite (Smoldering Air) which is the only one of its kind that regens your Call Aid/god gauge.
Meanwhile, Sea Storm (with Poseidon; seen below) is hilarious when paired with Tempest Strike and a fast-firing weapon. You can see an example below where my basic attacks with Adamant Rail keep knocking back enemies while shocking them with electricity. Add a bit of chain lightning effects (Storm Lightning, High Voltage, and Double Strike) as well as Poseidon's Typhoon's Fury (more damage when enemies are pushed into barriers), and you're next to untouchable.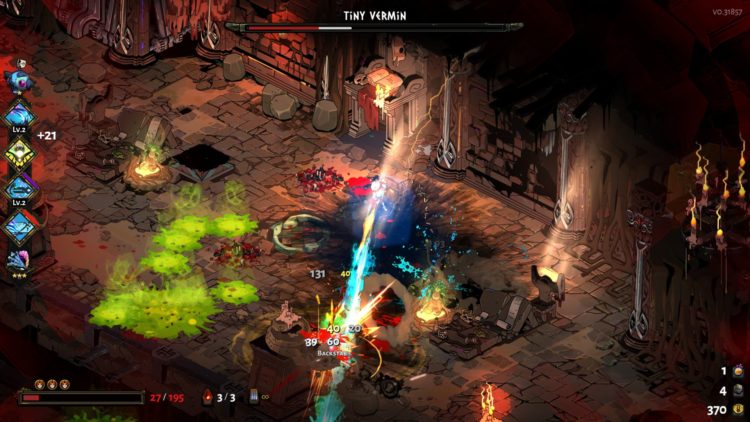 ---
Hades is available via Steam's early access program. For more information, check out our guides and features hub.