[Updated on March 31 @ 4:45 PM ET]: Updated for pricing accuracy. 
Ladies, gents, and other assorted hardware geeks everywhere, the CPU wars are officially underway. AMD has held the crown since the reveal of the Ryzen 3000 Series, an affordable line of powerful processors any desktop owner could get behind. With the reveal of its 11th gen Rocket Lake CPU line, it seems that Intel is gearing up to fight AMD on its recently claimed turf. The Rocket Lake CPU lineup is Intel's next revision on its 14 nm process, with newly added support for PCIe 4.0 and a sizeable IPC increase of 19%.
Besides boasting impressive stats, Intel's Rocket Lake CPUs will arrive with a suite of much-needed modern features. This generation of processors from Intel will come with 20 lanes of PCIe 4.0, along with native support for DDR4-3200 RAM. Intel is also boasting that the integrated graphics included in Rocket Lake CPUs will support Resizable BAR. Gamers out there may know this feature as Smart Access Memory, or at least, that's AMD's flavor of it. However, AMD does like to say that SAM isn't just Resizable BAR. Intel now has an opportunity to prove that statement wrong.
Of course, a new generation of processors means an entirely new chipset from Intel is on the way. Intel's 500 Series chipset will come with a host of new features, all designed to work with its new Rocket Lake CPUs. Naturally, this new chipset will support all 20 of Rocket Lake's PCIe 4.0 lanes. However, users can also look forward to Wi-Fi 6E and Thunderbolt 4 support. Thankfully, Intel isn't leaving its past generation behind, as it is oft to do every couple of generations. The 500 Series chipset will continue to support Intel's 10th generation processors.
Promising first-party benchmarking
With every hardware reveal, the manufacturer will try and show that their product is more powerful than the rest. Naturally, that continues here. Intel has benchmarked its Rocket Lake processors against the competition and, surprise surprise, Intel has come out on top. According to team blue, its new flagship i9-11900K can outperform its former frontrunner, the i9-10900K by an average of 11%.
However, when the focus shifts over to team red, the differences shrink considerably. Squared up against AMD's Ryzen 9 5900X, the Intel Core i9-11900K only performed an average of 7.5% better. You should note that these tests were all performed in multiple games at 1080p, with graphics settings set to high.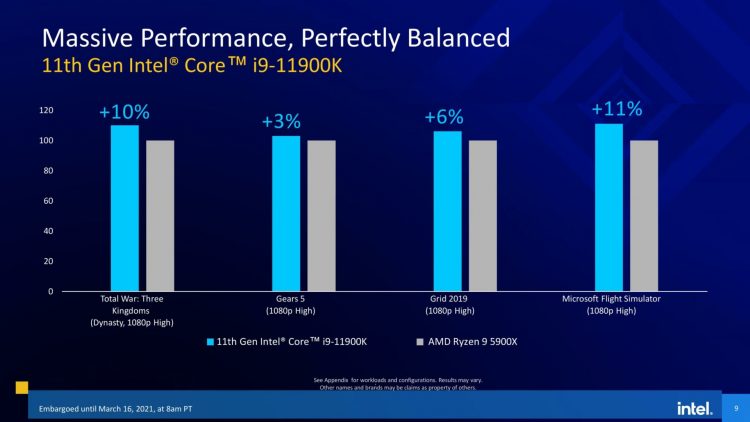 Of course, all these benchmarks have to be taken with a grain of salt until third parties get their hands on Intel's latest line of processors. Intel really needs to succeed in its pricing scheme, and it doesn't seem like it will. AMD will likely continue to hold the spot for "most expensive consumer desktop CPU" with its Ryzen 9 5950X, which costs a whopping $799.99 USD. While it doesn't seem like Intel is looking to compete with that, it's still not doing itself any favors.
In the benchmarks, Intel compared its flagship i9-11900K to AMD's lower tier Ryzen 9 5900X. That's more of a direct comparison anyways, so it checks out. If Intel's benchmarks are to be believed, it will offer a more powerful gaming chip at a similar price to its competition. The i9-11900K will run consumers $539 USD, while the Ryzen 9 5900X costs $549 USD. That's a tad cheaper in comparison, but still a little far-fetched when you compare it to the previous generation i9. Priced at $499 USD, the 10900K sports 10 cores and 20 threads, which is more than the i9-11900K. The 11900K may offer better gaming performance, but it will surely suffer in multi-threaded workloads. All in all, it's hard to say exactly where the i9-11900K will fit into the current market, and who will pick it out of the lineup when they're looking for a powerful CPU.