Some of our older readers may remember gaming on PCs with CRT monitors — and the horror that was mice with trackballs. The things were never that accurate, and always had to be cleaned out when gunk would inevitably get caught in there. Well, apparently someone at Nvidia remembered those times and got all nostalgic. We wish they hadn't. An old patent from Nvidia has surfaced, showing a controller sporting a trackball instead of a right joystick.
The patent, filed in 2019, shows off what such a controller may look like. At first blush, it looks like any other controller you'd see. It has the body of a Switch Pro Controller and the stick layout of a DualShock controller. However, one thing is blatantly missing: the right stick, that ever-important feature that many games lean on for camera control. Instead, there's a trackball in that slot, exactly where it shouldn't be.
Why a trackball?
According to the patent, the benefit of this design is versatility. "While one type of input, either a mouse input or a joystick input, may be preferred for one type of a game, it may not be preferred, or even compatible, for another type of a game." the patent reads. Supposedly, this trackball would be able to mimic the input of a mouse and joystick. While the patent goes on to say that this controller would be for users that want "freedom to play any type of game without worrying about the compatibility of their controllers," it seems more like something for the folks that enjoy weird tech.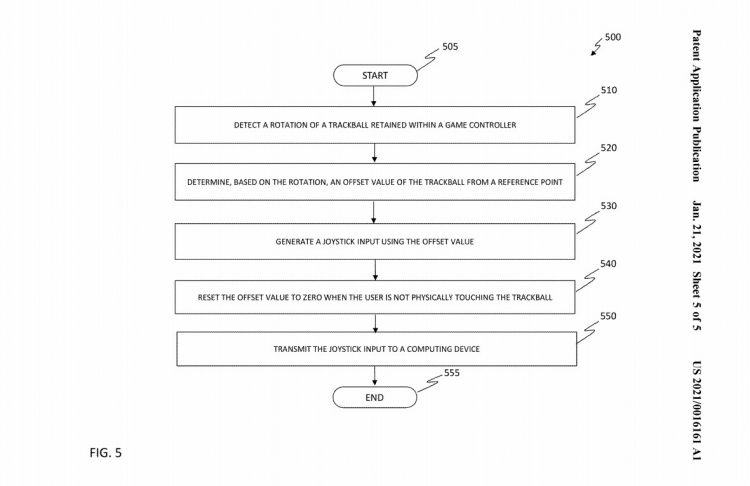 Since this patent was filed back in 2019 and we haven't heard any word from Nvidia regarding a controller with a trackball, it's possible that this peripheral never sees the light of day. We likely have someone at Nvidia that's in touch with modern-day PC gamers to thank for that. Innovation is great, as is experimentation, but some things from the early days of PC gaming are best left in the past. Now, if Nvidia wants to update the design of some of those older keyboards, that's an entirely different conversation.