The original Diablo – yes, the one that came out in 1996 – has made its way onto the GOG Store today. Diablo's appearance on GOG as opposed to Blizzard's own Battle.net is an odd move for sure. But, it is a welcome one. For many fans of the classic action RPG, just for it to show up on a proven platform would be enough. However, Diablo is coming with two versions: one regular, and one extra crispy enhanced and compatible for modern machines.
Diablo will feature everything you want and a tad more. GOG promises that the game will run perfectly, even on more powerful and up-to-date rigs. Plus, you'll be able to scour the demon-filled corridors with friends via Internet, LAN, or direct IP — with some restrictions we'll get into later.
As stated, there will be two versions of the game. The first version is the unchanged original, while the second is a GOG-enhanced version. According to the announcement, the updated version offers "quality of life additions, including minor audio fixes, up-scaling support for resolution and refresh rate control, and compatibility fixes."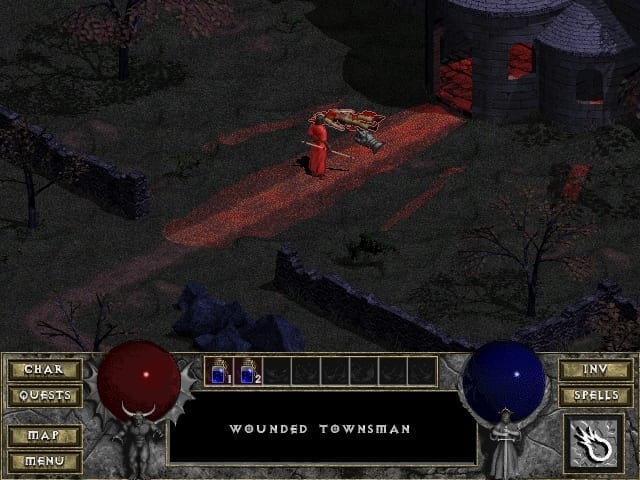 Ahh, Fresh Meat
Having Diablo back once again sounds great, but there are some drawbacks, as previously mentioned. While the original version of Diablo can connect online through Battle.net, the GOG-enhanced version cannot. So if you're looking to play the enhanced version of the game with friends, you can only do so through LAN or direct IP. Also, neither version will contain the Hellfire expansion pack, and there won't be any support for it in the future. Actually, the official wording for Hellfire is that there are no plans "at this time." Perhaps if the demand for the expansion exists, Blizzard and GOG can come to some terms.
The better news, however, is that Diablo won't be the only Blizzard classic to come to GOG. Blizzard announced that it will also bring Warcraft: Orcs and Humans and Warcraft II to the platform. There's no information at the moment when those two RTS gems will make it over.
You can pick up Diablo on the GOG platform for only $9.99 USD starting today. Get those blades and spellbooks ready, folks. It looks like you're still needed in Tristram.