[Update 5/29/19 4:10 PM PST]: You can in fact change the time of day to "alter the appearance of many scenes and levels," according to the press release found in the GeForce Experience launcher. However, judging by the images on offer, they still are not that dark when compared to the original game.
After more than 20 years in the shadows of gaming past, Quake II is getting its second chance in the spotlight. One of the most important shooters in PC history, the game is getting a complete RTX upgrade in June courtesy of Nvidia. Oh, and the updgrade will be free.
Nvidia celebrated the news with a gameplay trailer showing off some hot and heavy action scenes and comparison shots. The aging shooter will be given real-time ray tracing for more improved lighting — making railgun shots brighter, water more reflective, and explosions more…explosive. And here I was remembering the time when I thought the OpenGL graphics option was the best the game could look.
Close to the sun
The upgrades do look damn good. Let's be clear first off: this is the best Quake II has ever looked. The lighting is stunning, as fire and gunshots light up the room. But isn't it a little too bright? Quake II made a name for itself as one of the fastest, pulse-pounding shooters around. It was one of the many jewels of developer id Software's crown. But no one ever talked about how bright and cheery it was. Quake II was the exact opposite, a shooter that had you sprinting through dimly lit halls and labyrinthine processing facilities, chunking every enemy you meet to bloody giblets.
With RTX, however we run into some caveats. The upgrade makes the game bright so bright it looks more like a Quake mod for Serious Sam. It's so damn cheerful, I'm starting to understand what those grumpy Blizzard fans were talking about when Diablo III was unveiled. Now, I'm a man of few needs: I want my burgers medium rare, and my Quake games dank and dreary. I'm not getting that with the above gameplay video. Here's a comparison shot to give you a better understanding: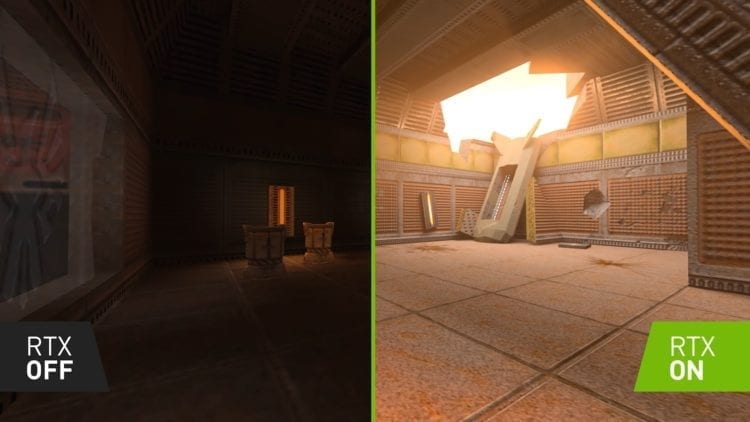 Feet first into hell
The scene above is the place in which you begin the game. Your drop pod is thrown way off trajectory, and you land far from your initial target. You're armed with only a pistol, and you're stranded from your fellow soldiers. Quake II's introduction fills you with dread. The world around you is dim and gloomy. You feel a sense of mounting panic as you're faced with the realization that you have to take on a hostile, alien planet on your own. Unless you can tweak the retina-burning lighting, the ray tracing will take away much of that edge. Granted, a lot of the earliest critiques for Quake II was about how dark it was, but as a kid who grew up playing this classic every day, that's how I like it.
I'll still give it a shot, of course. It's not like I need much of a reason to boot up one of my favorite shooters of all time. Plus, I still have a little bit of hearing left from listening to the game's soundtrack on high volume as a kid. I might as well finish the job.
Naturally, you'll need one of Nvidia's latest graphics cards to run Quake II with RTX on. Here are the specs:
OS: Windows 7 64-bit or Ubuntu 16.04 LTS 64-bit
Processor: Intel Core i3-3220, or AMD equivalent
Memory: 8 GB RAM
Graphics: NVIDIA GeForce RTX 2060, or higher
Storage: 2GB available space
Quake II RTX will be available for free on June 6.