Thimbleweed Park, a lovingly crafted spiritual successor to classic LucasArts adventure games, can be yours today for free. All you need to do is pick it up at the Epic Games Store.
Called a love letter to adventure games of yore, Thimbleweed Park is a nostalgia trip starring FBI agents and a potty-mouthed clown. Well, to be fair, the clown is under some kind of curse, I guess. But it's that kind of oddball quirkiness that you'd expect from the minds that created Monkey Island and Maniac Mansion. And much like those game, Thimbleweed includes puzzles with out-of-the-box solutions, a goofy sense of humor, and a gorgeous pixelated art style.
"A haunted hotel, an abandoned circus, a burnt-out pillow factory, a dead body pixelating under the bridge, toilets that run on vacuum tubes… you've never visited a place like this before," reads the game description.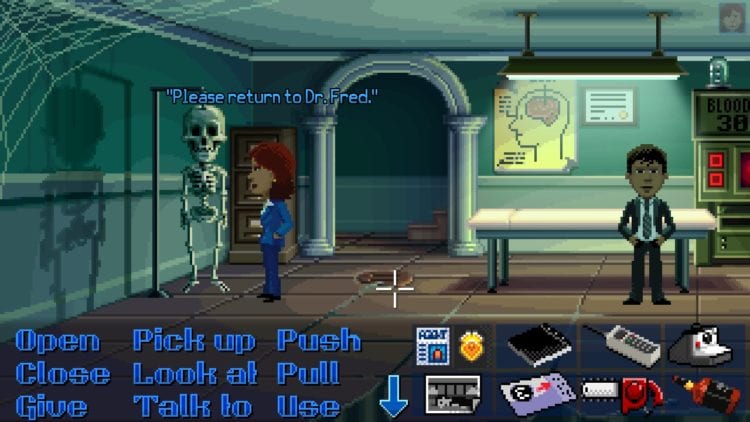 There's A Clown?
Our own Tim McDonald reviewed Thimbleweed Park not long ago, and he loved it. An old fan (sorry, Tim) of old school adventure games, Tm praised the game for its sense of humor and clever puzzles. He did, however, give it a few knocks for the game's story progression, noting that Thimbleweed seemed to fart about for a bit before becoming focused near the end. Of course, he also admitted that a lot of classic adventure games did this, too. But compared to more modern games of its genre, Thimbleweed's story seemed a tad distracted. Still, he found the game a joyous little return to the genre's roots.
"Do you wistfully think back to those years and those games? Then you should definitely play this," Tim wrote in his review. "It might not rank up there with the absolute best, but it captures the essence of the adventures of yesteryear and provides a sharp, witty, and genuinely puzzling experience."
To pick up the game without taxing your wallet, head to the Epic Games Store. It's only at this price until March 7. After that, the platform is giving away a free copy of Slime Rancher.