A Kickstarter for pixel-art arcade adventure game Battle Axe has smashed its initial goal of £40,000 (roughly $52,000). Having attracted around 1200 backers, Battle Axe will officially release on all major platforms. Whilst no confirmed release date has yet been established, the Kickstarter's estimated delivery is January 2021.
Project lead Henk Nieborg, who has worked for studios including WayForward since 1989, has contributed to many classic titles. These include Contra 4, Shantae: Risky's Revenge, and The Adventures of Lomax. Most recently, he was the artist for Xeno Crisis, a top-down arena shooter released on Steam last year.
Battle Axe
Speaking of industry veterans, Battle Axes' soundtrack is composed by Manami Matsumae. If you're not familiar with the name, she is responsible for the incredible music in Final Fight as well as Mega Man 1 and 2. Her skill set isn't just limited to retro classics either. In 2014 she co-composed Shovel Knight's OST alongside Jake Kaufman.
Battle Axe is inspired by the likes of Golden Axe and Gauntlet. Although as Gauntlet was released in 1985, it's fair to say Battle Axe is a little more ambitious. The top-down gameplay makes the most of the hack n' slash combat style. Defeating enemies grants the player experience points, gold, and various loot. You'll be able to use this gold to purchase upgrades to make your quest that little bit easier.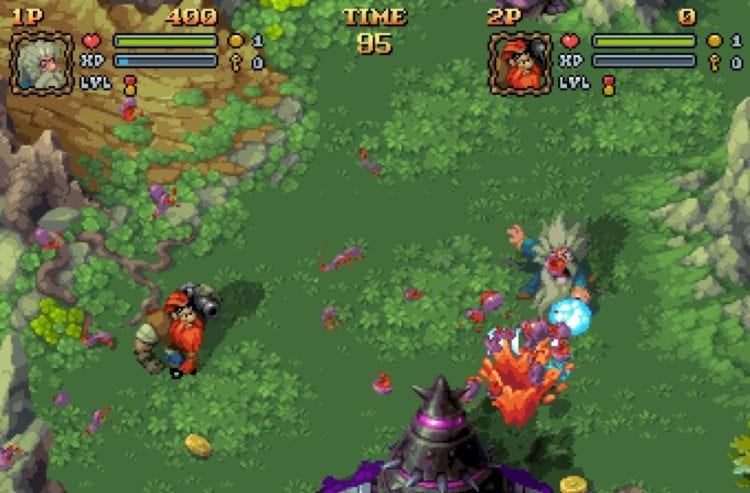 On release, players will have the choice to pick between three different heroes. Rooney is a ranged fighter who relies on his over-shoulder cannon to deal out damage. Fae is a skilled dual-wielding sword fighter who specializes in hand-to-hand combat. Finally, Iolo is Battle Axes' sorcerer who uses the art of magic to mow down his opposition.
If Battle Axe sounds like something you'd be interested in, there's still time to help fund it. Even though the main goal has been reached, at £50,000 (roughly $65,000) a New Game + will be added. Also, at £60,000 (roughly $78,000), a mysterious "to be unlocked," feature will follow.