Ever wanted to step in the shoes of a Hollywood Casting Agent? Well now is your chance with Cattle Call: Hollywood Talent Manager from Funny Angle Games. Personally, I am excited to try this Indie title out. This game reminds me of The Sims but with more drama. Check out the detailed trailer below and get ready to become part of Hollywood history.
Game Details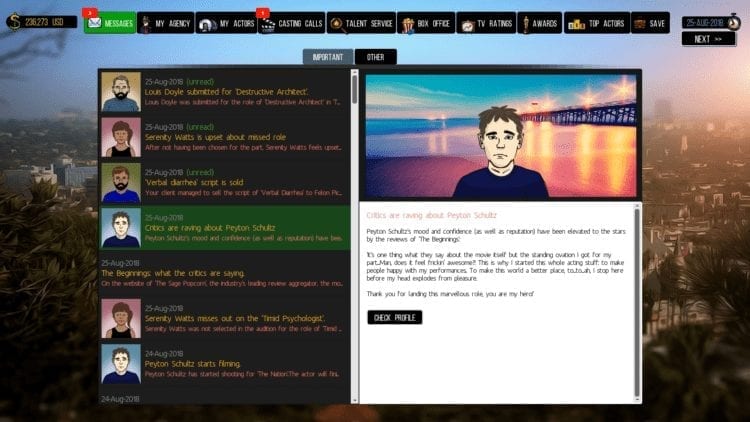 Ever wanted to be Ari Gold from the cult TV show 'Entourage' (a slightly less profane and neurotic version perhaps)?

Wanted to discover new talents from thousands of aspiring actors, guide them to fame, wealth and glory…or ruin their lives completely? Ever wanted to handle needy divas, lazy ass actors, junkies, sex addicts or complete jerks? Ever wanted to search through hundreds of casting notices to find that perfect role for a desperate client? Drive hard negotiations for a juicy backend bonus then anxiously check the box office chart every week hoping the movie will generate a massive profit? Or maybe enjoy a series of heart attacks on 'Upfront Week' when the large TV networks decide whether one of your series regulars' show will be renewed for the next season or get the boot?

If the answer to any of these questions is 'yes', then you hit the jackpot with Cattle Call: Hollywood Talent Manager, a humorous, yet comprehensive simulation of the film and TV industry and the lives of all its "actors" (pun intended).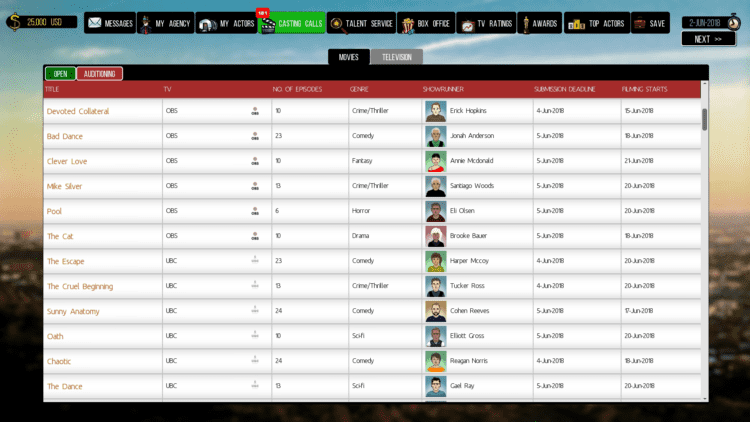 Features:
Choose your talent from a pool of over 30,000+ very colorful actors
5000+ randomly selected roles from over 500 different movies and television shows during each year you play
Hundreds of random events that will affect your outcome.
You will develop your actors and help them become a superstar as well as help them deal with "personal' issues.
The ultimate goal is to become a super agent!
The game comes out on Steam Early Access on October 25, but fans can wishlist it now. Cattle Call: Hollywood Talent Manager takes roleplay simulators to a whole different level. It's probably one of the more unique titles I've seen as of late.
For more information, head to their Steam Store page. Let us know if you plan on checking out Cattle Call: Hollywood Talent Manager.