Update: Destiny 2: Season of Arrivals' Umbral Engrams leveling cheese, sadly enough, has just been fixed. We hope you were able to make the most out of it. You can check out Bungie's tweet below:
A server-side fix has been implemented that will resolve the following issues:

💠 Players weren't receiving the appropriate amount of Twisted Energy after earning Umbral Enhancement II
💠 Focused Umbral Engrams could sometimes decrypt at higher Power than intended.

— Bungie Help (@BungieHelp) June 16, 2020

Leveling has always been quite a slog in Destiny 2. Thankfully, the Season of Arrivals introduces Umbral Engrams to help you focus on the drops that you want. Even better, there's also a leveling cheese involving these new additions. Here's our mini-guide to help you out.
Note: For more information about the other activities and content for this season, check out our Destiny 2: Season of Arrivals guides and features hub.
Destiny 2: Umbral Engrams leveling cheese for the Season of Arrivals
First off, you'll want to have a general idea about Destiny 2's leveling process and the new Umbral Engrams focusing mechanic that's part of the Season of Arrivals. You should also have a lot of Umbral Engrams (and Altered Elements resources) because the cheese isn't always guaranteed to work. If and when it does  — which still has a very high chance of happening — you could find yourself at a ridiculously high power level (PL) like never before.
Anyway, let's say you've got basic/unfocused Umbral Engrams in your inventory, simply head to the Drifter's area in the Tower Annex and check out the Prismatic Recaster. Make sure you've already unlocked the "Umbral Mastery I" perk in the Gifts of Light & Dark panel.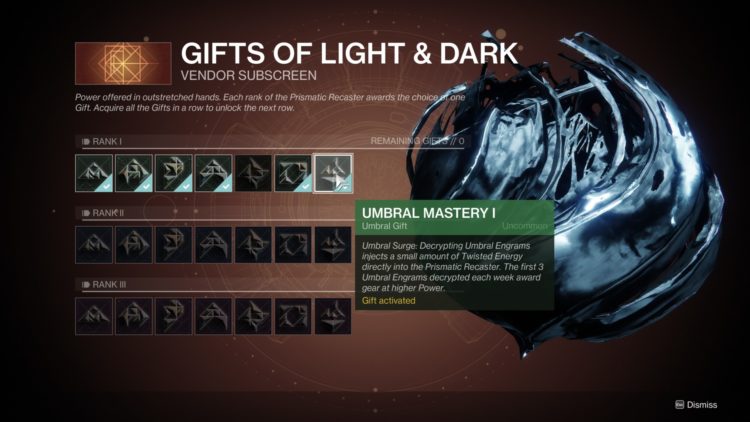 Next, check the Umbral Focusing panel to see the tier 1 selections. Go ahead and pick "Armor-focused Umbral Engram." This should do a couple of things:
Boost a basic engram to be "on-level" (your actual power level not counting the PL increase from the Seed of Silver Wings artifact).
Ensure that you're only getting armor pieces once you decrypt it via the Umbral Decoder.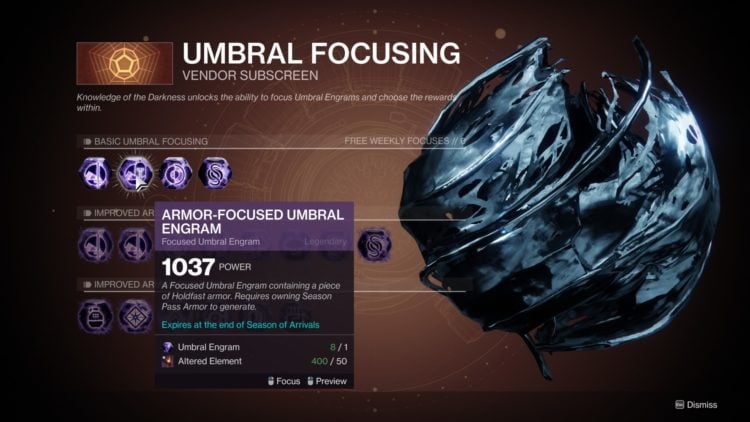 Even though the "Umbral Mastery I" perk says that only "the first three Umbral Engrams decrypted each week drop at higher power levels," the glitch actually lets this happen multiple times, even in quick succession, as long as you're picking the Armor-focusing selection. Check out the Umbral Engram I have below which should only turn into a 1037 PL armor piece:
When it got decrypted, it had +4 PL compared to what it's supposed to provide. This was even though I already used up my "first three" boosted decryptions for the week: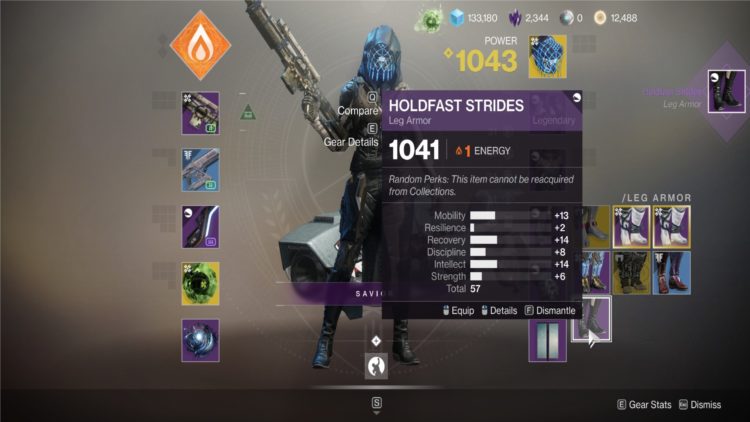 A few more things of note:
This cheese/glitch seems to only work for the Armor-focused selection. I've tried the other tier 1 selections (for science) and those didn't work. I've yet to see if tier 2 selections can be cheesed.
Try to only grab one Armor-focused Umbral Engram at a time. I've had more success when I'm using focusing feature one at a time as opposed to obtaining several of these.
At the moment, my Hunter (second character) is at 1049 base PL (one level below the 1050 soft cap). Trying this cheese no longer gives +4 PL armor pieces. Instead, you'll get only up to 1050. From there, only pinnacle drops will push you towards the 1060 PL hard cap for Destiny 2: Season of Arrivals.
At the very least, this leveling cheese should allow you to boost your characters quickly. Just make sure to do this now before it's fixed, and have a lot of Altered Elements (from Prismatic Recaster daily bounties) so you don't run out of resources. Perhaps you'll be able to clear the Prophecy dungeon without breaking a sweat since you're closer to the power level cap, eh?
---
Destiny 2: Season of Arrivals is available on Steam. For more information, check out our guides and features hub.