What do you get when you combine zombies, crafting, fetch quests and parkour? Dying Light that's what. The zombie-smashing game where you try to survive the apocalypse in the city of Harran was a smash hit for Techland. It's no surprise that they'll look to replicate their success with Dying Light: Bad Blood, the franchise's take on the battle royale genre, which will be on Steam Early Access this September.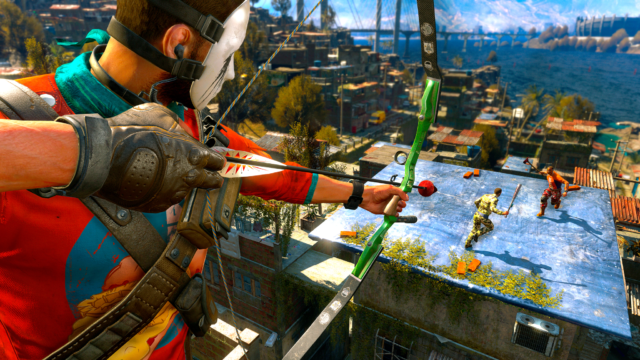 Dying Light – Bad Blood, Good Times
What made Dying Light enjoyable for a lot of fans was the myriad of ways you can create contraptions in order to slay the undead. You can also level up your character to gain brand new skills and perks. And, with the game's day-and-night cycle, you were always kept on your toes once the sun goes down.
When we last checked with Dying Light: Bad Blood, Techland teased us with what the game could offer. Back then, it was just a 6-player rumble. Now, games will have up to 12 players simultaneously. The mechanics which were touted then seem to remain unchanged. Players will still need to scavenge for weapons and pick up vials from the infected in order to level up. From there, it turns into The Walking Dead if the show had Rick, Daryl, and Michonne looking to gouge each others' eyes out. Yes, Dying Light: Bad Blood will emphasize both frantic PvE and cut-throat PvP where your mates might end up backstabbing you in the end. After all, like most battle royale games, only one will be left standing.
The game will be available for purchase on Steam at $19.99 via the Founder's Pack which includes:
Dying Light: Bad Blood (game)
Exclusive Golden Founder's Mask
3 exclusive Legendary weapon skins: Golden Neckslicer (dagger), Golden Bonecleaver (machete), and Golden Skullopener (cricket bat).
1000 Blood bucks, the in-game currency spendable in the game's store
Bonus: 3 exclusive Legendary skins distributed over 3 months
Apart from that, you can also join the Global Playtests. Selected players will get a chance to try out the game from August 25-26. After that, all the players who've signed up get a shot to try it from September 1-2. From there, the game enters its Early Access phase on Steam. Those who were part of the Global Playtests will have their progress carry over as well. And, finally, the best news of all — once Dying Light: Bad Blood does leave Early Access, it becomes free-to-play on PC and consoles!