Final Fantasy XIV's rapid update schedule continues apace, with patch 5.21 released earlier today. This particular patch focuses on continuing the Ishgardian Restoration while offering up a little extra love to gatherers.
With regards to Ishgard, this particular patch means that the Mendicant's Court has been rebuilt and the skybuilders are now focusing on other areas. Have a chat with Augebert in the Firmament to continue this questline and open up the next lot of crafting and construction. You'll require new Restoration materials for the new projects, but you can still turn in the older ones. The rewards will be lower than before, however.
Building heavensward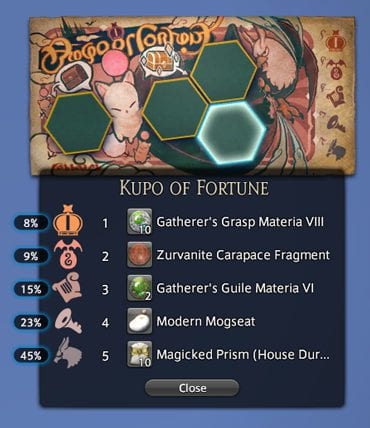 Final Fantasy XIV patch 5.21 also lets crafters take part in the Kupo of Fortune, a chance-based minigame. Turning in certain items (which vary based on your crafter class level) to Potkin in the Firmament will earn you stamps on a Kupo Voucher. Collect five of these, and you'll be able to use a Kupo of Fortune scratch card. The panel on the left contains something between second to fourth prize, while the other three panels can go anywhere from first to fifth, so there's a little more to scratching off one panel than just picking one at random.
Further afield, the Diadem of all things has been updated for gatherers, who can head there to grab items for use in Ishgardian Restoration crafting recipes. You'll need to be level 10 or above in Miner, Botanist, or Fisher to take part in gathering there, but you'll gain experience points adjusted to your current level and have a fair chance of finding some rare materials, so it should be worthwhile regardless of your level. There's also an Aetheromatic Auger action that can be used to smite an enemy; defeating an enemy with this gives you a slew of resources.
Finally, there are also a few quality of life and other changes. There's a Resource Requirements subcommand letting you see how many materials you have in your possession, and there's a seasonal ranking system which provides the most active players during the Ishgardian Restoration access to unique rewards and achievements. There are also Expert recipes, which are far more difficult to craft but will offer far more points when submitted.
Everything else
That's the brunt of Final Fantasy XIV patch 5.21, but there's a little more. A few things have been made easier, like Eden's Gate now offering up the Echo – but not increasing when everybody's incapacitated, so it's a little different than usual. Still, it should help anyone struggling to get through the first set of Eden Raids. The Orbonne Monastery raid's fight against Thunder God Cid, of all things, has also become easier. We should also shout out one particular patch note, because remembering the number of surprised people dying to this made us cackle: "In the Chronicles of a New Era quest 'Uninvited', the cast time of the red chocobos' Choco Meteor has been increased."
Most importantly, though, this patch has a load of new cosmetic stuff. We have a new emote and a new hairstyle (the latter courtesy of a hairstyle contest). There are new mounts, new minions, and new Chocobo barding. There are nine new dyes so you can look even more fabulous than before. And… there are parasols, now? Apparently, if you use one of these in your inventory, you'll get a new action that'll let your character hold a parasol. So, hey, that's neat.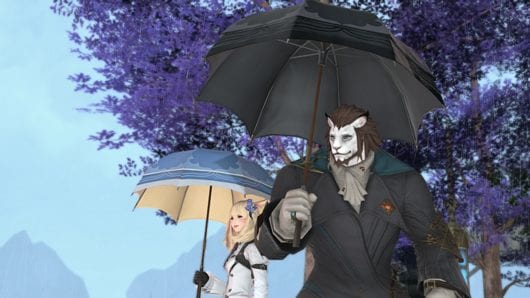 Final Fantasy XIV patch 5.21 is out now. You can view the full patch notes over on the official website. Or, if you're struggling to get through some of the dungeons and raids added in prior patches, you can check out our guide hub.