Fortnite's V.630 patch is live now, and it contains some rather interesting things. The main event here is "Food Fight," another limited time battle royale event. It's a quirky little event to have just before the holiday season, too, creating an all-out war between pizza and hamburgers. Fortnite continues to reinvent itself as well as keep the game fresh. We keep seeing more and more cute ideas for this popular battle royale.
Food Fight
Basically, this new feature is a battle between Durrr Burger versus Pizza Pit. Both teams will be on opposite ends of the map, with a barrier smack in the middle of the play area. Your mission is to build a fortress to protect whichever restaurant mascot you have chosen. As soon as that barrier lifts, it's game on. You need to destroy the other team's mascot in order to claim victory.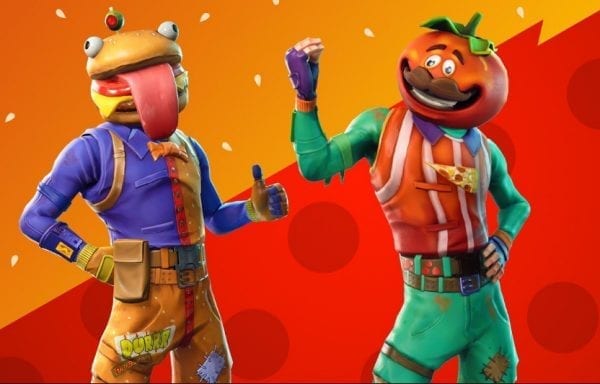 Other Key Details
The barrier will last for several minutes giving you time to prepare
The restaurant mascot head is housed inside an unfinished restaurant slightly near the center of the map
During this mode, special red supply drops will spawn at the beginning of the match that will give you ammo, weapons consumables, traps, and a helpful few hundred metal building materials
You will respawn after seven seconds but you keep your inventory
If you are eliminated, you will spawn with a percentage of your ammo and 30/30/60 wood/stone/metal building materials
Players will get 100% extra resources from gathering
Building resources found on the ground have been increased from 20 to 50
There are no explosive weapons or items in this mode
There is also a cool new weapon released called the Mounted Turret (Legendary Trap). It can be found in Floor Loot, supply drops, vending machines, and of course Supply Llamas. This weapon has unlimited ammo, but it will overheat if you use it too often. You can only place it on floors. For info on the patch and other bug fixes, head on over to Fortnite's news page.