Post Storm(terror) cleanup
Another simple quest is to visit the Good Hunter restaurant in the main courtyard in front of the Cathedral across from the produce sellers. Paimon wants a piece of Fisherman's Toast, which only costs a mere 1025 Mora, so give her a nice treat while you can. This will also give you access to more recipes. Purchasing the items in the restaurant let's you cook them yourself down the line.
You can also visit the main Adventurer Guild building to speak to Cyrus and take on the "Not to be missed" quest. Some monsters are still scattered about the land after Stormterror's attack on the town and they need to be taken care of. All of the locations where the monsters are will be marked on your map. This is a great point to take advantage of the teleport waypoints scattered around the map.
Whenever you see one of the waypoints, make sure to activate them. Not only will this gain you Adventure Rank points, but even simple missions can often have objectives spread very far apart. You can learn more about exploration in our Genshin Impact beginner's guide. Being able to teleport these long distances quickly is invaluable when taking on lengthy missions, which we will get to next. Take out the three monster camps (the enemies are chumps) and go back to Cyrus for your reward.
Our first long side quest is "Secret Pirate Treasure" and will really help get your Adventure Rank up. After accepting the quest speak to Kaeya, the ice-wielding Knight of Favonius in the main hall of the Knights HQ. After a humorous exchange between him, yourself, and Paimon, he tells you about his grandfather who was a legendary pirate. Apparently, his grandfather hid away a powerful sword that he discovered on his journeys. Kaeya is afraid a group of treasure bandits seen in Mondstadt recently will try and take it. He only has one clue to go off of though, and being an honorable Knight, cannot associate himself with his family's history of piracy.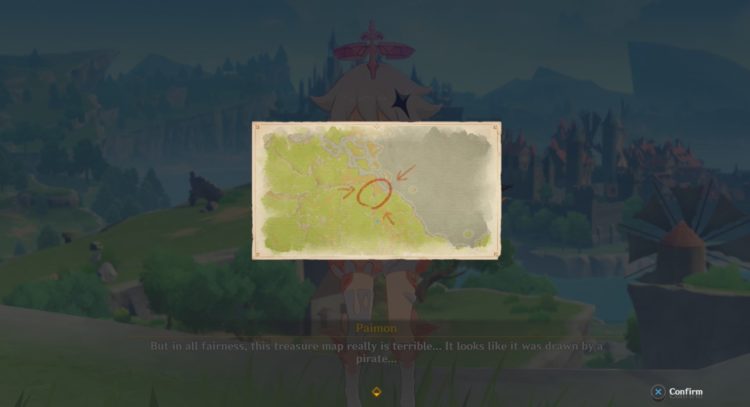 It's a pirates life for us on the next page.