In a slightly cringy Hearthside Chat, game designer Chadd and rhyming narrative designer Val talk a bit about Illidan Stormrage's past, discuss the new class's playstyle, and reveal the last five Hearthstone Demon Hunter cards – including two legendaries.
The first Demon Hunter, Illidan Stormrage
We talked a bit about Illidan's epic story when the Demon Hunter class was revealed, but it's hard to get tired of the misunderstood Night Elf turned Demon Hunter. He's a classic antihero who, despite doing questionable things, only wants to save Azeroth and his people – often at great cost to himself. His complex character makes him one of the greatest characters to feature in World of Warcraft and, if you ask me, any game.
The journey to becoming a Demon Hunter
The Hearthstone Demon Hunter prologue will be playable from April 2. This story is a prerequisite that must be completed if you want to unlock the Demon Hunter class when it releases on April 7 with the Ashes of Outland expansion.
The Hearthside Chat reveals that the prologue will be a series of four single-player missions. We already knew the story would be about how Illidan became a Demon Hunter. From the video, we can see that it culminates with a battle against the demigod worshipped by the Night Elves, Cenarius.
The final cards
As mentioned, the Hearthside Chat reveals the last five cards coming to the Demon Hunter with Ashes of Outland. The first card, Inner Demon, is a massive attack boost for your hero. You can combo it with one of the Demon Hunter class's numerous weapons to finish off your opponent, regain health, or clear your opponent's board.
Inner Demon can synergize with Aldrachi Warblades for massive lifesteal. Otherwise, you can combo it with Flame Reaper or Blade Dance to destroy all of your opponent's minions. The Flamereaper combo will take out minions with up to 12 health.
The next Demon Hunter card revealed in the Hearthside Chat was Soul Split. This card can be used to dominate the board by casting it on one of the many powerful demons available to the new class. Casting it on a demon with a deathrattle should prove particularly potent.
You can combo Soulsplit with Priestess of Fury to deal tons of damage to your opponent's side of the board. And if you use Soulsplit on Pit Commander, you can very quickly load your board with powerful demon minions.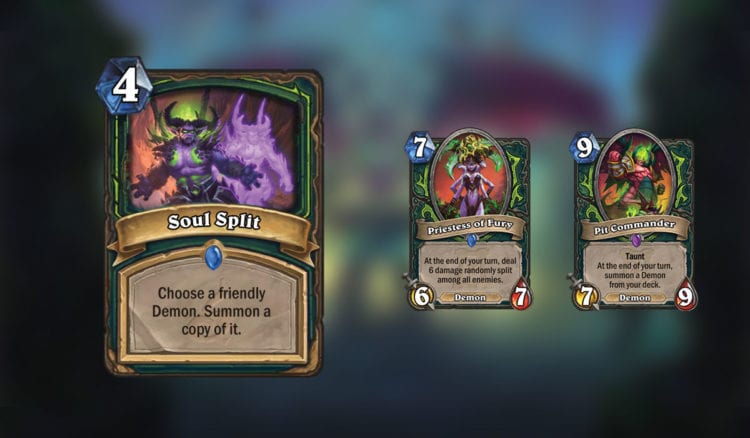 Next up is the Sightless Watcher. It synergizes particularly well with the new Demon Hunter mechanic, Outcast. Outcast cards gain bonuses when they are played from the left or right-most position in your hand. Sightless Watcher is also an excellent card to ensure you maintain a good tempo. It allows you to select the ideal card for your following turn.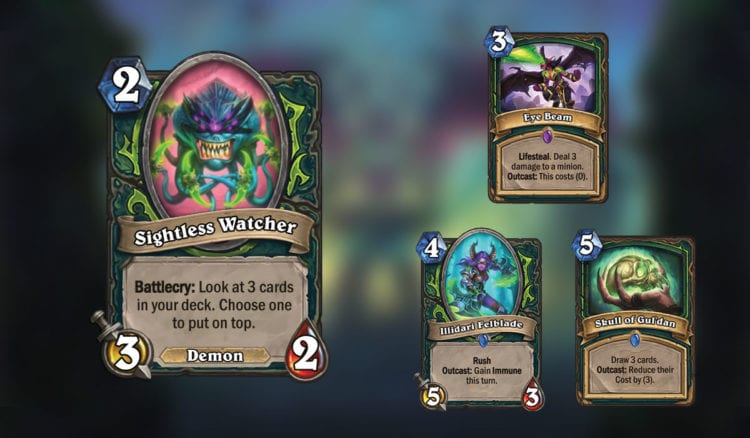 Two legendary Demon Hunter cards
Saving the best for last, the final two cards coming to Hearthstone with the Demon Hunter are the legendaries Altruis the Outcast and Nethrandamus. Altruis the Outcast will work well in a deck with lots of low-cost minions. You can use him to tick away at your opponent's health and kill their minions at the same time.
As for Nethrandamus, it's a late-game card. Every time one of your minions dies while Nethrandamus is in your hand, the cost of the minions it summons increases. Getting this card into your hand early on will allow it to upgrade numerous times. Then when you summon it, it will be accompanied by two powerhouse minions.
If you're struggling to keep track of when all the new bits and pieces are coming to Hearthstone, Chadd has a tweet with a simple schedule on it. You can also head over to the Hearthstone website if you'd like to see the complete patch notes for the coming update.