You don't always have to spend thousands of dollars to get into PC gaming, but sometimes you want a product that can take all the guesswork out. Enter HP's top-of-the-line Omen 875-1040st gaming PC. This customizable line of PCs let you zero into whatever level of gaming you need. What is contained inside this surprisingly small case is exactly the type of performance you'd expect given the top-grade components.
This product was provided by HP for the purpose of this review. All prices listed are in USD. Check out the HP Omen lineup here. Disclaimer: PC Invasion does not receive any monetary benefits from this affiliate link.
HP Omen Obelisk 875-1040st review model specifications
HP's Omen Obelisk series starts out at around $900 and can go up to $1600 for their stock builds. In this case, we have a custom $3999 beast of a machine designed with top-of-the-line components.
OS: Windows 10
CPU: Intel i9 9900k 8-Core / 12 thread 3.6 GHz (4.8 GHz Max Boost)
GPU: Nvidia GeForce RTX 2080ti with 11 GB DDR6 memory
Memory: 64 GB HyperX DDR4 RAM (2,666 MHz)
Storage: 2 TB Intel 660p M.2 NVMe SSD; 3 TB Toshiba 7200 RPM hard drive
Motherboard: HP 8509
Rear inputs: Five USB 3.1 (Gen1) ports; one USB-C port, ethernet port; 3.5mm audio jacks for stereo speakers, a mic, and optical audio
Front / side inputs: Two USB 3.1 (Gen1) ports; 3.5mm headphone and microphone jacks
Wireless: 802.11a/b/g/n/ac (2×2) Wi-Fi and Bluetooth 4.2 M.2 combo
Measurements: 14.06 x 17.05 x 6.5 inches
The PC itself will make quick work out of any 1080p game you feed it, but if you're going for something this powerful, you're likely not going to be satisfied with regular old HD. This machine is purpose-built to handle glorious 4K at 60 FPS and 1440p at 144 FPS, so that's where we're going to focus.
Obelisk design
Apart from a glowing LED Omen logo on the front of the case, HP has kept the gaudy gamer-esque design to the minimum. The aesthetic is clearly meant to reflect the name "Obelisk" — a black tower with a ton of power inside. The components are discreetly showcased behind a clear panel on the left side of the case with plenty of customizable LEDs to match whatever setup it's placed.
The interior itself is tightly but cleanly packed in. The CPU has a short, closed-loop water cooler leading to a fan at the top of the case, leaving the computer whisper-quiet most of the time. While there is little room to spare inside the case, it isn't crowded. There is still space for air to circulate, with every component on display. Honestly, the most surprising thing about this build is how HP managed to pack this much power into such a small package. The entirety of this PC could be installed in an average mid-tower case.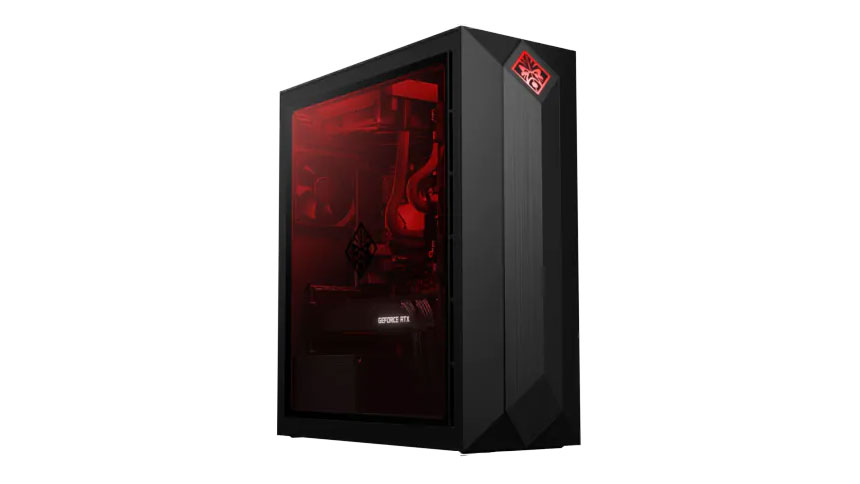 The front of the tower is probably my only complaint. It is made up of four polygons that extend out to a single line that runs down the center. A flat front surface would likely be preferable to most people, but considering that HP managed to squirrel away some components inside that space, it's a reasonable trade-off.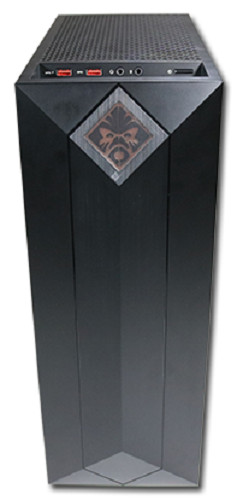 At the top of the case is an inlet that houses the power button and two USB 3.1 ports. The back has five USB 3.1 ports as well as a USB-C port. It should be noted that there are no onboard video ports in this build, so you'll need to rely on a graphics card. That said, at this price point, you won't need onboard graphics anyway. Lastly, with a built-in Wi-Fi and Bluetooth adapter, this PC is basically plug-and-play ready.
The best performance money can buy
The HP Omen tested here is clearly swinging for the fences. With 2TB of NVMe SSD storage, even the biggest of games can be stored on your fastest drives. Anything that doesn't need to load quickly can be placed on the fairly snappy 3TB 7200 RPM HDD also included in this rig. These upgrades don't come cheap though. The base model only comes equipped with a single 1TB 7200 RPM hard drive. Upgrading to the SSD increases the price $275. Adding a  second SSD in raid configuration and a tertiary HHD brings the price up another $355. Not to mention that upgrading to the 64GB of RAM in this kit will add a whopping $700 to your tab. Tack on another $650 for the 2080ti upgrade.
Does all this hard-invested cash translate to performance? Absolutely. This kit easily pulls in 100+ FPS with maxed out settings and ray tracing at 1440p in Call of Duty: Warzone. At 4K, the performance still holds fairly well around 60 FPS, with occasional dips into the low 50s and high 40s. With ray tracing off, at 4K that number gets pretty much locked in at 60 and at 1440p around 115 frames. In both cases, high amounts of players and particle effects in one area can drop those numbers into the 30s at 4K and 90s at 1440p.
What about other games with RTX?
Shadow of the Tomb Raider is a bit more resource-intensive. At 1440p max settings with ray tracing, frames can drop as low as the high 30s in crowded cityscapes. Wider vistas skyrocketed frames up into the 100+ range, but on average it held around 55 most of the time. Killing ray tracing alone brings those numbers up around 30 additional frames per second across the board. Those same cityscapes never dip below the mid 70s. That said, the trade-off might well be worth it at 1440p as ray tracing takes this game from looking great to breathtaking. At 4K these numbers dip a bit, but average around 54 without ray tracing and 29 with it.
Minecraft at 4K kept a very solid clip around 60 FPS with occasional dips as low as 45 FPS in busier areas. Once RTX was kicked on, the game managed to hold on to the mid 50s, but on average would be around 45 FPS with dips in the mid 30s in dense areas like the Neon District RTX map. At 1440p with RTX on, the frame rate, even in the busiest of areas, held up in the high 60s on average with no dips below the gold standard of 60 FPS. Overall, still impressive performance and definitely a very nice-looking way to go if you're fiending for some diamonds.
Controlling your limits
Remedy Interactive's Control seemed to be one of the hardest games for even the 2080ti to run at max settings. At 1440p with ray tracing enabled, the game would struggle to hold frame rate in the mid 40s with dips down to the 30s during combat. Disabling RTX really took the weight off, however, doubling the average frames to the low 80s and removing any dips below 60 FPS. At 4K the performance started getting a little dicey. With RTX off, the game averaged 36 FPS with lows around 33, which isn't too bad all things considered. Turning RTX on really seemed to stress the limits though, averaging around 20 FPS with dips in the low 10s.
For a few benchmarks more…
Where this HP Omen really shines is with non-RTX games. A recent title like Gears 5 at 1440p holds an average of 83 FPS. At 4K it's basically locked in at 60 FPS, which is all you can ask of current technology.
Last year's The Division 2 is a bit more to tackle. At 1440p you can expect an average of 82 FPS, which is in line with that of Gears 5. However, at 4K you can expect a bit more of a hit with the game only averaging 44 FPS.
An HP Omen of things to come
So what's the bottom line? On the one hand, the HP Omen is about as nice a computer as anyone can ask for. It's small, sleek, quiet, and incredibly powerful. On the other hand, we are really starting to see the edge of a technical generation. As it stands now, there really aren't many systems out there that can run modern games at 4K with RTX at max settings at a solid 60 FPS.
That said, the beauty of PC gaming is the freedom to adjust settings to your taste. Do you want the best visual fidelity and don't mind a lower frame rate? Then this is about the best machine you can buy. Don't mind sacrificing a bit of resolution for those juicy high frame rates? Well, this machine can pull its weight there, too.
So the only other consideration is the price. At $3,999 for the build I reviewed, it's an incredibly steep ask at first glance. However, once you consider that the parts within are installed with water cooling inside a very tight case, it becomes a matter of convenience. Competing products like Alienware's Aurora R8 are in the same price range but are considerably less visually appealing and much heavier for the same components. Chances are that if you're in the market for a top-of-the-line pre-built PC, then you'd be hard-pressed to find a better offer.