Just a little over 30 years ago, Leisure Suit Larry entered the households of many unsuspecting gamers. Since then, the series has been touted as one of the classics when it came to adult-themed and risque games. The last time we've heard news of the franchise was when the latest game, Leisure Suit Larry – Wet Dreams Don't Die popped in and out of the Steam store a few months ago. Back then, we only knew it would be released later this year. Thankfully, developer Crazy Bunch and publisher Assemble Entertainment have announced a November 7 release date. Oh, and likewise, they've also announced a contest to "Show Us Your Larry."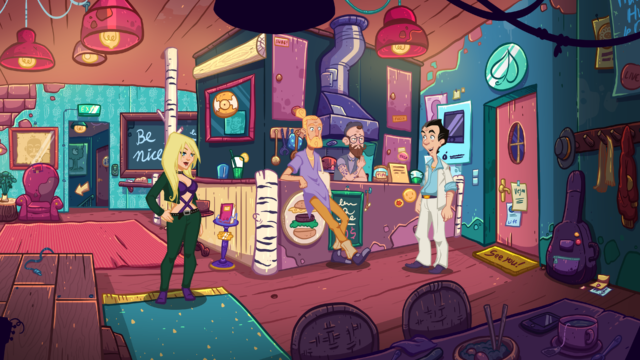 Leisure Suit Larry – Wet Dreams Don't Die
The newest game in the franchise, Leisure Suit Larry – Wet Dreams Don't Die, will see the titular lounge lizard face the modern day. Yes, it's quite fitting given that the sleazy and sometimes uncouth Larry now has to change his views on the fairer sex. Likewise, Larry will also have to deal with dating in the digital age. Back in the classic titles, you had to walk up to a lady to chat her up and start flirting. This time around, Larry needs to pick up his game on "Timber" the online dating app.
Wet Dreams Don't Die will still follow the tried-and-tested formula of past titles with hand-drawn animation and locations. Although Timber will play a role as you need to improve Larry's dating score via the app. The end goal is, well, helping Larry marry the woman of his dreams — Faith.
Show Us Your Larry
Along with this news, Assemble Entertainment also started a new contest "Show Us Your Larry." Participants are required to cosplay as Larry Laffer with the following requirements:
You must be 18 years or older to participate
The face of the participant must be clearly recognizable
The participant has to wear a white suit (no matter if it is real or created by image processing)
When posting the photo on Facebook, Instagram or Twitter, the hashtag "#ShowUsYourLarry" must be used
Yep, pretty much fairly straightforward, as you can see in the trailer above. Not only will the Larrys of the new age have a chance to win copies of Leisure Suit Larry – Wet Dreams Don't Die, they'll also be eligible for the top prize — $999.99. We don't know why they decided on that amount, but hey, that's a thousand bucks (almost). If you do wish to participate, make it fast because you can only submit your entries until August 31st.