A UK-based audio equipment manufacturer has decided to step into the gaming world. Meters Music has announced a new gaming headset range called Level-Up. Currently, the line consists of three virtual 7.1 surround sound headsets, each containing different color schemes.
Along with virtual 7.1 surround sound, the headsets boast some other features. They come equipped with a detachable microphone, 50mm drivers and a fancy "VU" meter on each earcup. The meter details the audio levels going on inside the headset for when you feel like showing off how loud you crank your audio. We're not entirely sure what the practical uses for the meters are. They could come in handy for tasks like configuring audio levels.
The headset can be connected via USB or a standard headphone jack, providing some flexibility across PC and various consoles. A 2.2m braided cable is used for connecting the device, which does add a premium look to the headset. There's an included remote control too, which allows you to adjust audio levels wirelessly. The remote also lets you to alter the color of the lighting, which is situated within the VU meters.
New kid on the block
As Meters Music is new to gaming, it remains to be seen if it can break into the headset market. There are a ton of headset and headphone options these days, backed up by some recognizable brands. The VU system and color options do set this range apart though, and the company has some pedigree working with top bands and artists.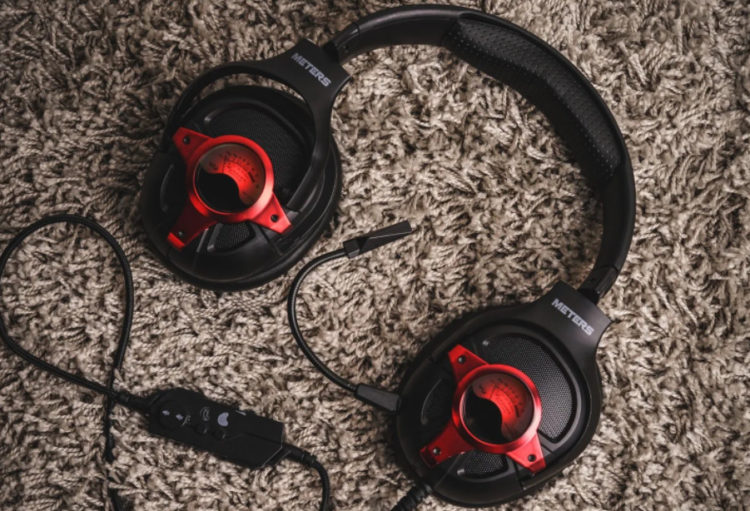 In the UK, the Level-Up Red headsets are £99.99 and come in carbon, silver, and red color options. Matching these with the VU meter lights could provide some neat customization options for players. As of now, the company hasn't revealed any details on US or international purchase options. We will have a review up on these soon, so check back to see how they stack up against the competition.