Asobo Studios continues to provide consistent updates on the status of the upcoming Microsoft Flight Simulator. The sim is about to move into a next major phase of development: beta. This is signifact due to it being the final stage before the full release.
In the latest development update (the July 2, 2020 Update), Asobo has confirmed that the closed beta is set to take off later this month. This will follow the release of Alpha version 5. The team is targetting July 9 to announce when the closed beta will begin. In the meantime, more Alpha invitations have been sent out and all players accepted for the Alpha will automatically gain access to the Closed Beta.
Another major note in this new update is the introduction of FlightAware to Microsoft Flight Simulator. FlightAware describes themselves as an "avaiation intelligence company that provides eal-time and predictive flight insights to all the biggest players in aviation."
If you know anything about real-time flight trackers, then chances are you may have used FlightAware's service to lookup the current status of a flight (it also keeps historical records). So, what role will they play in FS?
Traffic jamming
Past entires in the Microsoft Flight Simulator series have used fictional airlines to populate airports and the skies above. Both payware add-ons or community-made mods would be necessary to incorporate real-world traffic into the sim, and the data would eventually fall out of sync with the real-world state of aviation. Now, FlightAware will be incorportaing its technology into the new sim, incorporating real-time aircraft traffic data that's so accurate, you'll be able to see aircraft that are currently flying in your own area at the same time you're in the sim. That level of accuracy has never been featured before in any flight simulation program.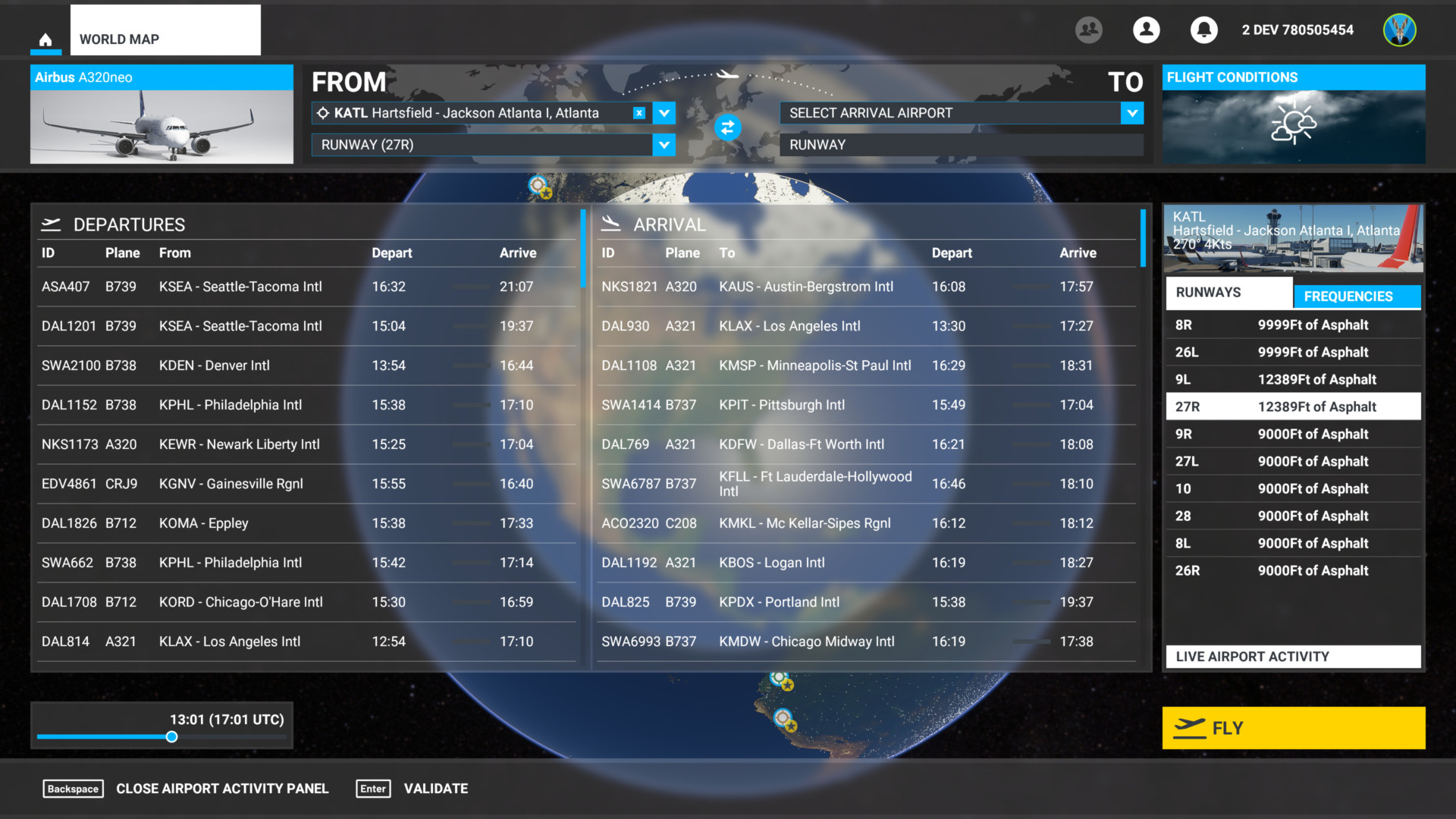 Flight Simulator players will also be able to check the real-world arrivals and depatures from airports, and get flightplan data from any real-world flight that they select. But, even more impressive is that players will be able to jump in the cockpit and fly a real-world flight in the sim as its happening. Again, such functionality has never even been remotely featured in any simulator before, so this is truly something that is completely brand-new to the world of flight sims.
Checklist complete
Personally, all of these new features sound amazing to me. One of my favorite past times with Flight Simulator has involved me trying to recreate real flights that I've taken in the sim. For example, Tame Airlines – Airbus A320 from Fort Lauderdale, USA to Quito, Ecuador. The fact that players will now have a database of active traffic at any given time will push the needle even further into an almost a full virtualization of the real-world.
Another reason why this tech is signifacnt is due to the fact that airline and flightplan databases are constantly being updated, which is something that add-on software/mods have never been able to fully capture. For instance, many airlines only operate routes on a seasonal basis, and sometimes routes are stopped altogether. Not to mention that airlines come and go every now and again; especially after this pandemic where several notable airlines are no longer operating (including the aforementioned Tame). There's also the even more frequent change of some airlines accquiring new planes, sometimes transforming their whole fleet to new aircraft types. For example, my local airline (that I've grown up with) Bahamasair, has shifted their fleet within the last 10 years. Back in 2010, they were operating a collection of Dash 8-300s and Boeing 737-200s. As of today, they now operate a collection of ATR 42/72s, Boeing 737-500s, and recently accquired a Boeing 737-700 less than a year ago.
The point is, the world of aviation is in constant motion. For the first time ever, Flight Simulator will have the technology to keep up with those changes and give virtual pilots everywhere the opportunity to experience something that seems to be turning into a little less than stone-throw away from the real deal. Here's the big question that Asobo is still pretty hush about: How many aircraft types will we get out of the box? For now, we only have two airliners, and a handful of general aviation aircraft. Guess we'll have to wait and see just how many manufacturers will be willing to license out their equipment.