Phoenix Point is a brand new game from Julian Gollop, creator of the original XCOM titles (or UFO as they were known then). It has a few settings to consider, and we'll dive right into these in our technical review. "Dive into it," get it? It's because we're fighting lots of crab people. Okay, enough.
Note: You can also check out our official review of Phoenix Point.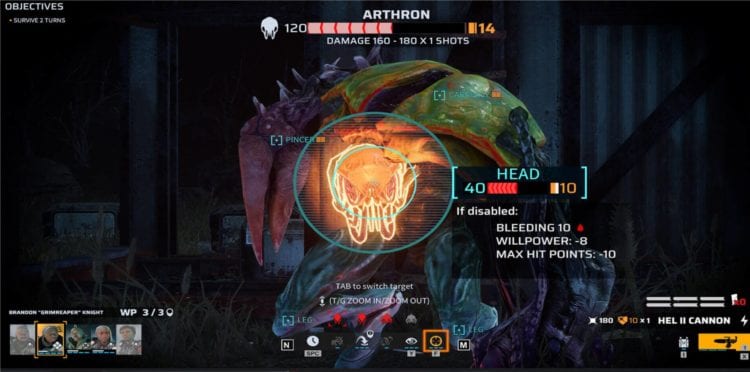 Phoenix Point: System Requirements
Windows Minimum
OS: Win 10, 8 and 7 SP1+ (64 bit)
Processor: Intel Core i3 / AMD Phenom II X3
Memory: 8 GB RAM
Graphics: Nvidia GeForce GTX 660 / AMD Radeon R9 270
DirectX: Version 11
Windows Recommended
OS: Win 10, 8 and 7 SP1+ (64 bit)
Processor: Intel Core i5 3GHz / AMD FX series 3.2GHz
Memory: 16 GB RAM
Graphics: Nvidia GeForce GTX 1060 / AMD Radeon R9 390X
DirectX: Version 11
Mac Minimum
OS: Mac OSX 10.11 64bit
Processor: Intel Core i3
Memory: 8 GB RAM
Graphics: Radeon Pro 555
Mac Recommended
OS: Mac OSX 10.11 64bit
Processor: Intel Core i5
Memory: 16 GB RAM
Graphics: AMD Radeon Pro Vega 64
Author's
OS: Windows 10 (64-bit)
Processor: Intel Core i7-7700 4.2 GHz
Memory: 16GB RAM
Graphics: Nvidia GeForce GTX 1070 Ti (8 GB)
DirectX: Version 12
Storage: Samsung SSD 800 EVO 500 GB
The system requirements come from Phoenix Point's official FAQ. I'm well above the recommended specs for Windows PC players, so everything should be fine. Most players shouldn't have a problem provided you've got a decent rig. Let's move on to the graphics.
Video and graphics settings
Phoenix Point only has a handful of video settings which you can see above. You'll be able to change your resolution, enable v-sync, and choose which monitor the game is displayed in.
As for the graphics settings, you'll see these below:
You've got your video presets ranging from "very low" to "ultra." You can also set levels for texture, shader, and particle quality. You'll be able to toggle shadows on or off as well as shadow distance.
There are more options that you can toggle on or off. You've got ambient occlusion, depth of field (DOF), bloom, chromatic aberration, and the like.
Graphics comparisons
I've added two sets of images from Phoenix Point's tutorial mission. I've used three different configurations — ultra @ 4K UHD, low @ 4K UHD, and ultra @ 1080p. As usual, click on each image for a larger view.
Tactical battle area
Targeting close-up
You'll notice that shadows have disappeared and textures look a lot more drab if you lower the settings. Textures and character models also don't look as polished, and certain features on the map were also no longer rendered (such as foliage).
In later cases, blood and dismemberment effects wouldn't look as striking unless you're picking higher presets or with every setting enabled. Also, if we downscale to 1080p, the quality suffers slightly, though you'll mostly notice a darker and rougher tint.
Performance and screenshots
Given that Phoenix Point is currently an Epic exclusive, it's also DRM-free if you run it using the executable; you won't even need a launcher. Still, I opted to run it using Steam by adding the executable as a non-Steam game. This is to add more functionality, especially with screenshots.
By default, taking screenshots using Steam would require you to hit F12. You'll want to rebind that under Steam -> Settings -> In-game. This is because hitting F12 while playing Phoenix Point brings up the bug report panel.
Phoenix Point, when using the ultra preset and 4K UHD resolution, nets me around 35-45 FPS. This can be a downer if you're expecting constant 60 FPS. Then again, this is a turn-based tactical strategy game, one that emphasizes a slower, more methodical approach. We won't be hurrying to get extremely high framerates anytime soon. Still, there were a handful of stutters here and there, mostly when using the Fallout 4 VATS-esque limb-targeting system.
There's also a particular crash that may worry you, assuming that you're also running the executable via Steam. If you launched the game using the EGS and Steam at various points in time, you'd have two configuration files. In turn, this can cause wonky crashes if in case those configurations don't match.
To fix this, go to <User Profile>\AppData\LocalLow\Snapshot Games Inc\Phoenix Point\EGS\LocalData. This is the folder for your Steam config. Delete the "options.jopt" file therein and relaunch the game.
Gameplay and audio settings
There's not much to say with regards to Phoenix Point's settings for gameplay (above) and audio (below). The options only allow you to toggle free-cam and disable gameplay data collection — conveniently named "collect anonymous telemetry." As for the audio, you've got your usual volume controls and that's that.
Interface and control settings
The interface panel has more options, though, since it also has the control layouts. You can also select the game's language and enable subtitles from here:
Here are the keybinds in Phoenix Point which you can't change at all: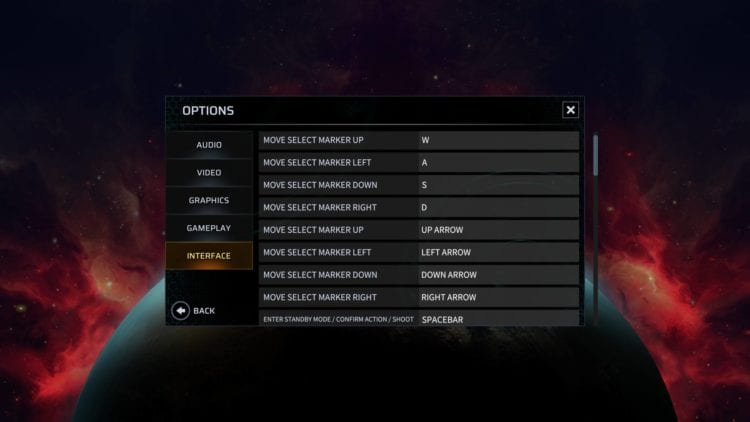 They follow the usual and common keybindings for most other turn-based tactical titles, at least, so you should feel right at home. The only oddity here is that scrolling up and down with your mouse tends to be inverted (with regards to zoom functions), and you can't change this as well: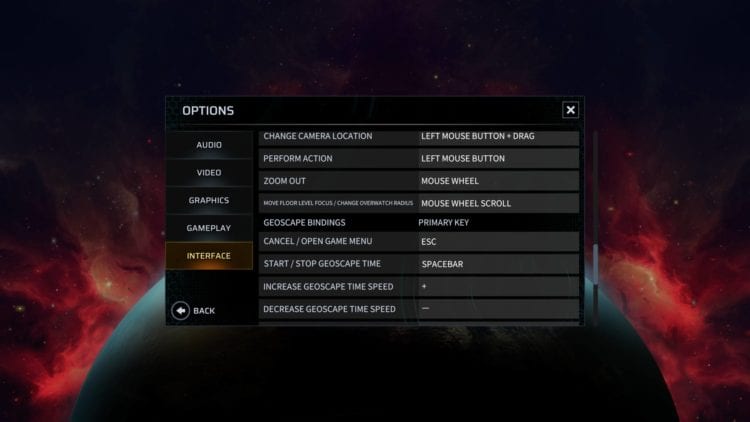 The gamepad layout — which, likewise, can't be changed — is also functional and it works well enough. I have a Logitech F310 and I haven't come across any problems… yet. Still, I'd prefer using a mouse and keyboard setup.
Anyway, these are the gamepad controls during a mission:
Meanwhile, these are the corresponding gamepad buttons when you're navigating the Geoscape/world map: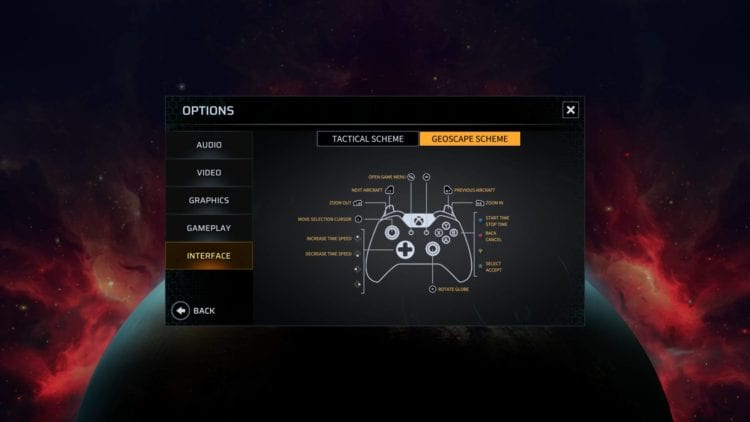 Saving
One last thing of note is Phoenix Point's auto-save system. You can manually save at any point in time during a mission or while you're viewing the Geoscape. However, auto-saving only works prior to launching a mission.
Since the game doesn't automatically save each turn, you ought to be careful. Then again, this could lead to a lot of "save scumming" if you're a stickler for perfect runs. You'll find your save file directory in <User Profile>\AppData\LocalLow\Snapshot Games Inc\Phoenix Point\EGS\LocalData.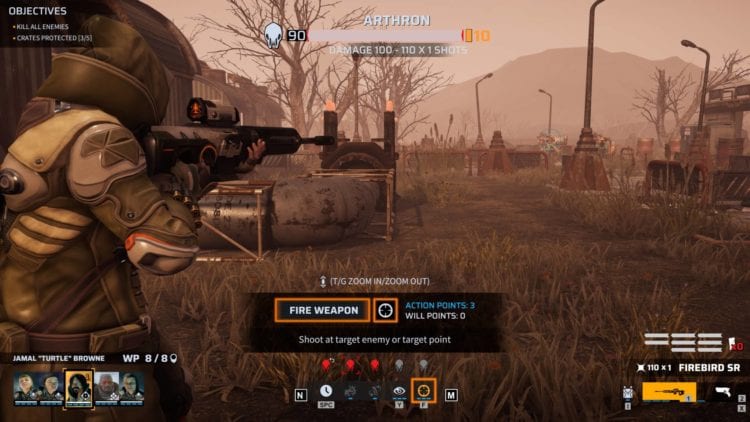 Phoenix Point: At a technical glance
There's something to be said about Phoenix Point's barebones options. On one hand, you can certainly criticize it for a lack of customization and tweaks that'd be normal in PC titles. On the other, everything does seem functional at a glance. If you're used to certain turn-based tactical strategy titles, then you'd get used to this one.
The graphics and environmental detail won't necessarily overwhelm you, but they're passable. Optimization does need to be addressed since being well above the recommended specs still leads to subpar framerates. Then again, the genre doesn't emphasize that fast-paced and frenetic action, so the flaw isn't as egregious. Just watch out for some random stutters and split-second freezes when you're targeting crab people, as these can happen from time to time.
---
Phoenix Point is available via the Epic Games Store. You can also check out our official review.