The original purple burninator may find his way onto PC, if a Taiwanese ratings board is correct. The Spyro Reignited Trilogy popped up on said board, and a screen shot was quickly posted by Twitter, causing fans to wonder if the famous dragon could soon be flying our way.
For those wondering, the Spyro Reignited Trilogy brought three of Spyro's games to modern machines. The games were remade from the ground up, with new visuals layered on top of the classic gameplay. It was publisher Activision's second attempt at bringing an aged but popular platformer series back to life. The company's previous attempt was the Crash Bandicoot N. Sane Trilogy, which landed on PS4 back in 2017.
Earlier today, a Twitter user posted the possible leak. The user dropped an image apparently taken from a Taiwanese ratings board, clearly showing that the trilogy is heading to PC. On the pack shot used in the image itself, it shows that the game will come as a digital download only. Also, the game will be ported over by Iron Galaxy Studios. This is the same company that handled the PC port of the Crash Bandicoot N. Sane Trilogy.
According to the Taiwanese ratings board, Spyro Reignited Trilogy is headed to PC, ported by Iron Galaxy pic.twitter.com/smdJrZjRcR

— Nibel (@Nibellion) May 28, 2019
Not that N. sane
It's certainly possible for the Spyro Reignited Trilogy to hit PC. After all, the Crash trilogy is already available for our platform of choice, having been ported over to Steam nearly a year ago. In addition, there already was a rumor that Spyro would head to PC. Almost a year ago, the UK Spyro website showed the compilation was heading to both the PC and Switch. To date, the trilogy hasn't been officially announced for either platform.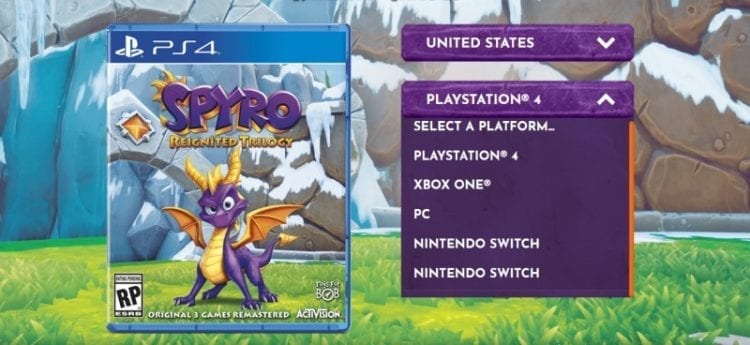 But that may soon change. It's unknown why the Spyro Reignited Trilogy PC listing was removed. We can speculate that Activision never planned on releasing it for PC, or that this was the plan but the publisher wanted to surprise us like it did with Crash. It's also possible the publisher didn't want to steal Sony's thunder, as Spyro was a staple of the PlayStation era.
Either way, if we consider the fact that Crash eventually made it to PC, it makes sense that Spyro will as well. With E3 right around the corner, it's certainly possible that Activision will make the announcement public during the show.