You're going to be finding an awful lot of Eto in Watch Dogs: Legion. All the time, really. But what are you supposed to do with it? The answer is mindless consumerism, of course! To be clear, all you can do with it is buy new clothes for your operatives. Which, hey, there's nothing wrong with getting your peeps some duds here and there. But if you don't know where to look and just end up going to the nearest clothing icon on your minimap, you'll probably run into one of those little carts that sells junk to tourists. Yes, the Union Jack is great and all, but you're from London, you don't need souvenirs, you need sweet hacker clothes that only Watch Dogs: Legion can provide!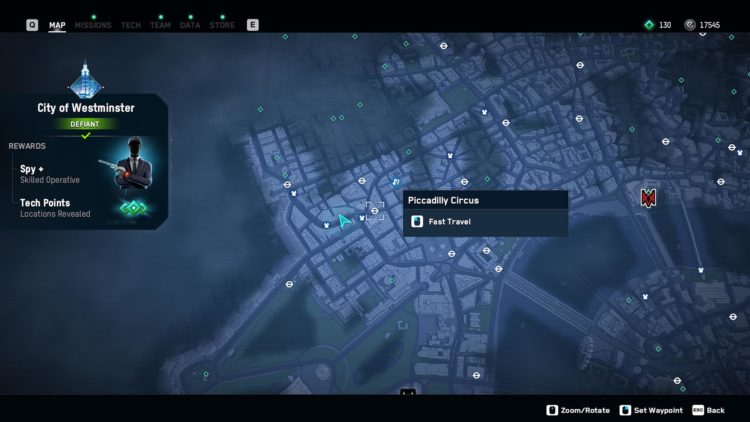 Which is why I just head over to Picadilly Circus, which has all of or most of Watch Dogs: Legion's clothing shops in one spot. All you need to do is fast travel via the tube (or drive if you're not lazy) and then check your minimap for all the shops in the immediate area. You'll find all of the places: the touristy crap, the gentleman's shop, the place that sells shiny leather. The place has a little something for everybody really. Just a quick note, though, you can only change clothes from the wardrobe in your hideout or shops. No doing it from the menu. The wardrobe at your shop also has specific Dedsec gear you can't find anywhere else.
And another thing. Clothes can get pretty pricey, so only buy them with a character who has a the loyalty card perk. That gives you a discount on all shop purchases in Watch Dogs: Legion. And why shouldn't you save a few quid when you're saving London from an authoritarian crisis that's threatening to destroy it entirely? Head on down to Picadilly Circus and do your thing. Or just keep your money and spend it on nothing. I don't care what you do.
Head over to our Watch Dogs: Legion guide hub for the rest of our hints and tips on setting London free.