Compulsion Games continues to remind fans that We Happy Few is still very much alive. The latest announcement from the studio is to inform you that the "Lightbearer" downloadable content pack goes live today, launching on the PC and all other supported platforms. The content pack will run you $7.99 as a standalone purchase.
It's all rock & roll, baby
To shed some light on the latest content pack, Compulsion Games has provided more details on the new storyline. You'll play as Nick Lightbearer who is described as "Heartthrob, artist, and personal trainwreck." This tees up some of the events that transpire as he becomes a focal point for a string of murders that surface during a convention in his name, known as the Lightbearer Fan Club Weekend. The mystery behind these murders is that Mr. Lightbearer has succumbed to rolling blackouts, now retracing his rockstar status steps.
If you're wondering just how you're going to fend off crazed fans, Nick Lightbearer can wield his guitar or throw "Golden Records" in order to escape. To delve deeper into rockstar land, no survival mechanics will be implemented, avoiding the need to eat, sleep, or craft like in the traditional game.
The haves and have nots
As previously mentioned, the DLC pack can be purchased as a standalone digital addition for $7.99. However, if you purchase the season pass for We Happy Few at $19.99, the Lightbearer content pack comes at no charge. The pass also includes future content that will be released and is part of three new additions to the base game. But the wording for the Season Pass is a bit confusing as it's described in the text as, "Buy the Season Pass and get all three add-ons at a discounted rate."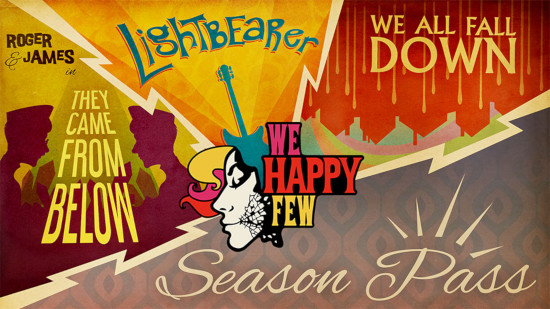 The We Happy Few Lightbearer DLC pack is now available on PC via Steam, GOG, and the Microsoft Store. If you plan to purchase in the Microsoft Store, it should be noted that the pass is reduced to $17.99 if you have jumped onto the Xbox Games Pass PC train. The content will also launch alongside its console counterparts, those being PlayStation 4 and Xbox One.