Wolcen: Lords of Mayhem has finally arrived after four years of development as part of Steam's early access program. This Wolcen review takes a look at the technical side of things, including the indie ARPG's various graphics options, graphics comparisons, controls, network selections, and performance.
Note: You can also read our official/scored Wolcen review which focuses on the campaign, endgame, and mechanics. For additional info about Wolcen: Lords of Mayhem's Expedition ranks, Champion of Stormfall upgrades, skill builds, tips, and more, check out our guides and features hub.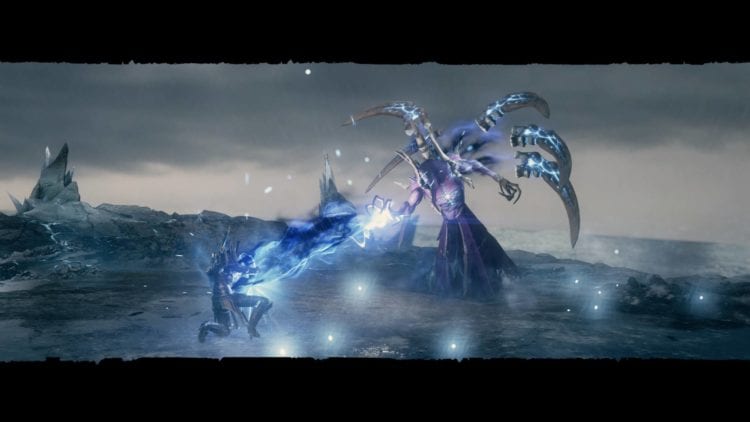 Wolcen: Lords of Mayhem – System requirements
Minimum:
OS: Windows 7 64-Bit SP1, Windows 8.1 64-Bit, Windows 10 64-Bit
Processor: Intel Core i5-4570T 2.9 GHz / AMD FX-6100 3.3 GHz
Memory: 8 GB RAM
Graphics: NVIDIA GeForce GTX 560 Ti / AMD Radeon HD 6850
DirectX: Version 11
Storage: 18 GB available space
Recommended:
OS: Windows 7 64-Bit SP1, Windows 8.1 64-Bit, Windows 10 64-Bit
Processor: Intel Core i7-4770S 3.1 GHz / AMD FX-8320 3.5 GHz
Memory: 16 GB RAM
Graphics: NVIDIA GeForce GTX 1060 / AMD Radeon RX 570
DirectX: Version 11
Storage: 18 GB available space
Author's:
OS: Windows 10 (64-bit)
Processor: Intel Core i7-7700 4.2 GHz
Memory: 16GB RAM
Graphics: Nvidia GeForce GTX 1070 Ti (8 GB)
DirectX: Version 12
Storage: Samsung SSD 860 EVO 500 GB
Display Resolution: 4K UHD 3840x2160p
The system requirements of Wolcen: Lords of Mayhem come from its Steam store page. As you can see, I'm well above the recommended specs. However, since I'm playing while using 4K UHD resolution, there are some performance hits which I'll get to in a while.
Graphics options
Wolcen: Lords of Mayhem has the following graphics options which you'll see below. You've got presets from "Low" to "Very High" which you can choose from under the graphics quality drop-down selection. Anti-aliasing options, vignetting, sharpening, and chromatic aberration can be adjusted. It's possible to show the framerates in real-time as well. Although not visible in the image, you can also toggle motion blur and lens flares on or off.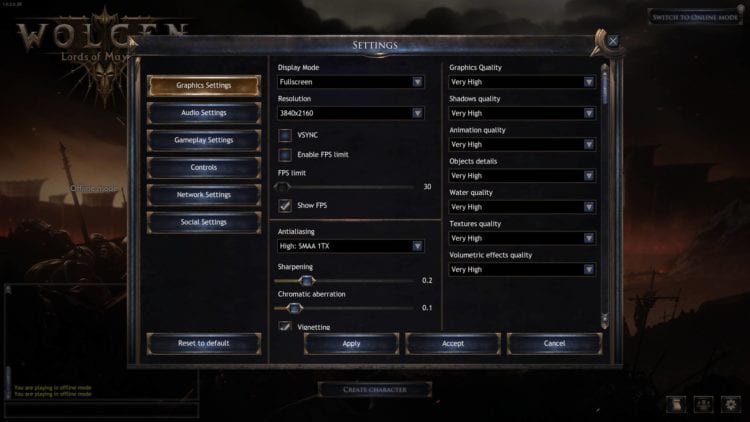 Graphics comparisons
I've selected several images from Wolcen's prologue level. I chose the "Low" and "Very High" presets. As usual, click on each image for a larger view.
A closer look at your character
Using a skill
Enemy gore
Performance
Although not quite noticeable, there are some distinct changes when you're switching Wolcen's presets. Shadows and particle effects are more vivid and detailed, and the spells you cast are flashier. However, if you look closer, you'll notice the results when you have the "Show FPS" option enabled (take note of the upper left-hand corner of the image).
More often than not, I was getting 25-30 FPS whenever I had the "Very high" preset enabled. This jumps a lot higher at around 40-45 FPS when using the "low" preset. That's not optimal in most cases, yet it's acceptable for an ARPG since the drops were still manageable.
As an aside, I did downscale to 1080p just to check my framerates. As expected, I was getting around 90-100 FPS.
Gameplay options and HUD elements
In Wolcen: Lords of Mayhem, you can make several changes to HUD elements via the gameplay options panel. You can change the game's language, enable gory explosions, floating damage numbers, quest markers, and visible health bars or silhouettes.
You can also scale the size of the HUD namely your health/force shield bar, willpower/rage bar, and skills. Here's how things look by default/1.0 scale:
And here's when you use the maximum scale (1.2):
Control and audio options
Wolcen: Lords of Mayhem supports keyboard and mouse input only. It's possible to automatically load a gamepad configuration when you start the game, but this also leaves a lot to be desired. Movement, targetting, and item pickups already feel clunky when using a mouse and keyboard setup, and a gamepad simply won't work properly. This factor will also be discussed in detail in our official review.
As for audio, here are the settings that you can tweak: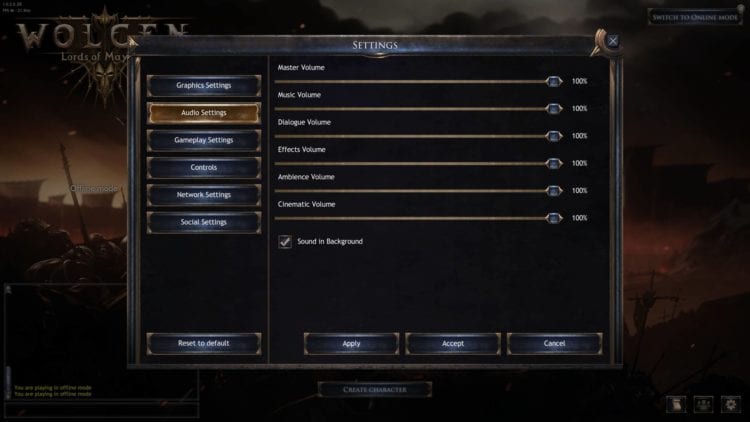 Social and network options – Online vs. offline mode
Wolcen: Lords of Mayhem has a few options under the social tab. You can enable streamer mode and automatically hide or refuse friend requests.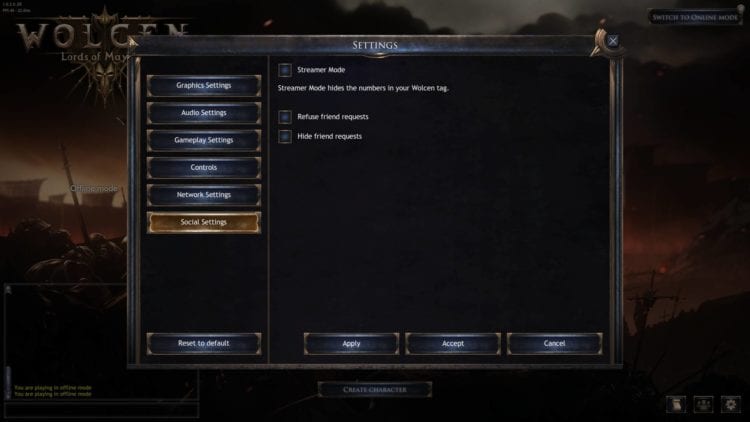 Finally, you've got your network options which include making ping visible, starting the game in offline mode, and which region to choose if you wish to play online. There are a dozen or so servers to choose from such as multiple servers in the US (Ohio, California, Oregon, and Virginia), Asia (Mumbai, Tokyo, Seoul, Sydney, and Singapore), and Europe (Frankfurt, Ireland, and London). You could also opt to just pick the "auto" setting.
There's just one problem — Wolcen: Lords of Mayhem has been plagued with server issues since it launched. There have been outages, queueing problems, missing characters, rollbacks, and just network instability across the board. If you do wish to play the game now, it's best that you select offline mode. Unfortunately, since you can't bring your offline characters to play online mode (and vice versa), you're stuck with this choice all throughout. As such, even our official Wolcen review focused primarily on the offline, single-player experience.
Wolcen review: At a technical glance
Wolcen: Lords of Mayhem suffers from a number of technical issues at the moment. These include janky movement and controls to the inability to play online with friends. It's playable as long as you're prepared to go at it solo. Sadly, it's a lonely road, and it's a long way from reaching its fullest potential.
Our only hope is for developer Wolcen Studio to alleviate these problems soon enough. With a player base that's experienced setbacks for the past couple of days, and with complaints that have been raised, time will tell if Wolcen: Lords of Mayhem manages to recover from its problematic launch. Otherwise, the highly touted mayhem will just remain a "maybe" for now.
---
Wolcen: Lords of Mayhem is available on Steam. For more information, check out our guides and features hub.