Yakuza 6: The Song of Life is freshly available on a variety of PC platforms, and it's high time to take a look at its performance and settings. Despite the title appearing on the last generation of consoles, it is surprisingly demanding in terms of resources. The minimum and recommended stats don't tell the full story.
As I alluded to earlier, though Yakuza 6 has fairly reasonable minimum and even recommended specs, this isn't necessarily going to guarantee a seamless experience. Once you start tweaking the graphics settings, everything goes out the window, but more on that later. If you are just looking to play the game on standard settings, everything ran quite well. Aside from a bit of texture pop-in when transitioning out of cutscenes, the moment-to-moment gameplay seems at least on par with what you'd experience on console.
System Specifications
MINIMUM
CPU: Intel Core i5-3470 | AMD FX-6300
RAM: 4 GB
GPU: Nvidia GeForce GTX 660, 2 GB | AMD Radeon HD 7870, 2 GB
RECOMMENDED
CPU: Inter Core i7-6700 | AMD Ryzen 5 2600
RAM: 6 GB
GPU: Nvidia GeForce GTX 1070, 8 GB | AMD Radeon RX Vega 56, 8 GB
REVIEWER'S
CPU: Inter Core i7-10700k
RAM: 32 GB
GPU: Nvidia GeForce GTX 1080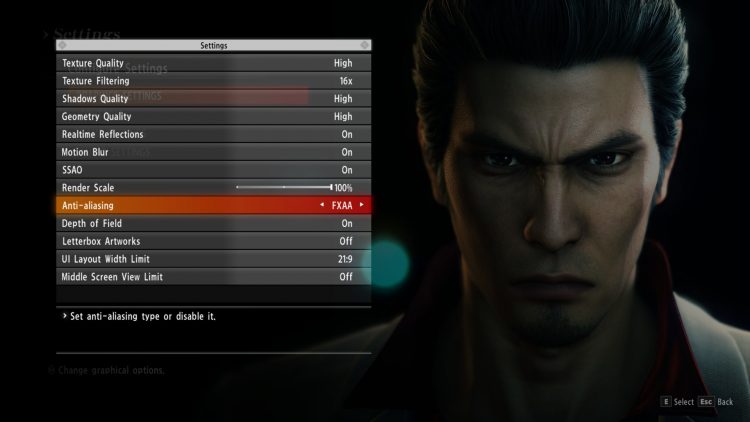 Framerates be damned
Honestly, I was somewhat disappointed with the graphics options, as it seemed like things were fairly bare bones. The problem was, despite the game looking great under the baseline settings, the moment that you try to do anything involving anti-aliasing everything goes to hell in a hurry. Even our EIC Cameron Woolsey gave it a shot on his RTX 2080 Super under Ultra settings, and it the game was a system hog when only rendering at 1440p.
Of the customizable options, you will definitely want to steer clear of Yakuza 6's SSAA settings unless you have a seriously beefy graphics card. You have 1.25, 1.5, 1.75, and 2.0x SSAA options, which I made the mistake of turning up to 2.0x on my GTX 1080. Long story short, don't ever do that with this old of a GPU. Not only was the game rendered inoperable, it required a full nuke of all of my settings in order for the game to boot.
Yakuza 6's anti-aliasing is minimal, no matter the setting. Even when Cameron was able to successfully crank the SSAA to 2.0x (which my machine wasn't even capable of accomplishing), it didn't seem to make much of a difference as far as jagginess in the presentation.
Though the graphical options left something to be desired, there were a few tweaks worth exploring. Here's the full rundown.
While the game does manage to look impressive when some of the dials are turned up, you may want to be very careful with any adjustments you make. There are several reports online of folks running into numerous different performance issues that are primarily associated with the game's aging Dragon Engine. Luckily, even on the baseline settings, things both look and perform rather solidly.
Controlling your own destiny
Not only does Yakuza 6 support controllers, it actually recommends it. There is even a screen that is displayed after startup, stating that real Yakuza players use controllers. It really doesn't get more point blank than that. There are still keyboard controls, but it is fairly obvious that the controller support received a majority of the attention. Unfortunately, the UI for remapping the controller layout is very barebones. It ends up looking exactly like the key mapping screens for the keyboard as well. Sure, it isn't that big of a deal, but it just seems to be a byproduct of what appears to be a rather hastily developed port.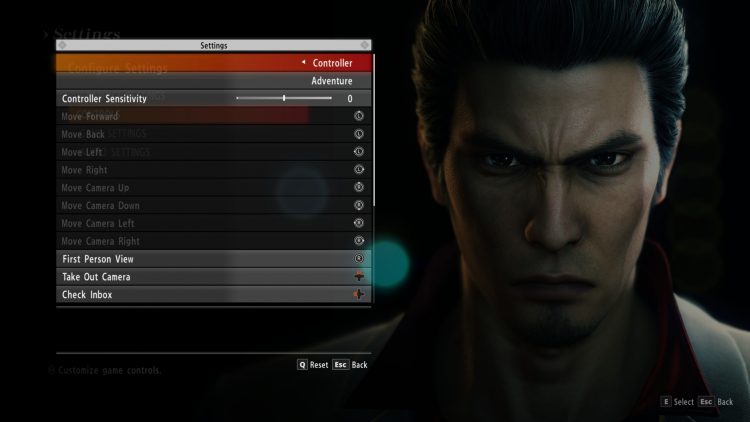 For comparison, here are the keyboard and mouse control mapping screens as well.
While it likely isn't going to win any "Game of the Year" awards, Yakuza 6: The Song of Life is a perfectly passable port. Are you planning on rolling the dice and giving it a look?