A new year means a swift start to a new collection event for Apex Legends, and this one is themed after the Fight Night origin story for Pathfinder. If you missed out on the latest edition in the Stories from the Outlands series, you can catch up by reading our coverage, which includes the trailer. The story is not only entertaining, but also provides a lot of context for the identically named in-game event that begins on January 5.
Fight Night has a lot of parts that make up its whole. There's a new LTM playlist, timed-exclusive cosmetics to earn, Legends and weapons rebalancing, and of course, the obvious boxing ring now on the Olympus map. On top of all of that, there are also loot-giving MRVN NPCs on the map and Gibraltar has an heirloom. Let's dig in to everything.
The Fight Night theme is obviously the centerpiece for the collection event in this season of Apex Legends. It's unique and defining feature is the boxing ring and surrounding stadium which allow players to go weapons-free, but guns blazing in some intense melee actions. What guns you ask? Those cannons attached to your shoulders, as Mirage puts it.
Players can duke it out to gain control over the loot crates peppered about the fighting floor. The arena is unique, because bullets cannot enter through the walls and abilities are also turned off. It's sure to result in some hilarious moments. When you drop in to check this out, look for the stadium next to the Solar Array and Bonsai Plaza.
Calling all loot goblins
Aside from the fisticuff frenzy, there's a limited time playlist that revolves around high numbers of supply drops. The devs call it "Airdrop Escalation Takeover." Four new drops land each round, and contain everything from gold attachment weapons to crate weapons and red shields. The endgame battles will be fierce, so you will want to stay rotating to get kitted ASAP.
Since we're talking about loot, it's also time to explain the MRVNs. These bots look just like Pathfinder, but you can interact with them to receive loot awards. The icons on the chassis screens will indicate what item rarities the MRVNs offer.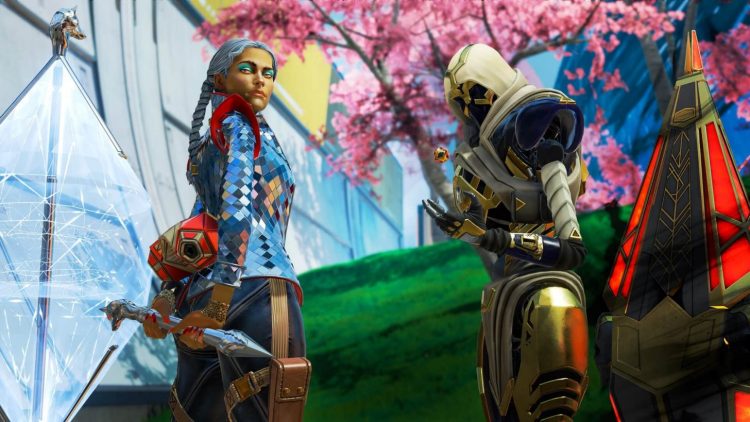 Stylin' on enemies
As mentioned earlier, Gibraltar finally has an in-game heirloom. This fiery ax seems to fit the Apex Legends art style of blending futuristic weaponry with traditional themes. The Pacific Islander accents are there and flaming energy obviously references the iconic volcanism of the islands.
You can also earn and buy some timed-exclusive cosmetics for most — if not all — of the Legends. You can preview the skins in the trailer and refer to the rewards progression chart for details. As you can see, there are a couple of weapon skins and a Gibraltar skin to earn. You can earn points by completing the event challenges, which also stack with Battle Pass points.
Patching things up
Last but not least, there are a number of gameplay tweaks, fixes, and quality of life improvements that are generally exciting to see. Rampart is getting a buff with lower cooldown times on her Amped Cover ability. It's decreased from 30 to 20 seconds. Meanwhile, Caustic's Nox Gas Trap will also see a cooldown reduction from 25 to 20 seconds. Because we need more Caustic traps.
On a better note, the Hemlok will receive a damage nerf from 22 to 20. The Mastiff will now feature a wider pellet spread too, effectively nerfing its range. Finally, the Prowler will benefit from increased reserve ammo capacity, going up from 175 to 210.
"The Mark All as Seen" button is now a reality too, so you can clear screen pings to reduce the business on your screen. More importantly though, Ultimate Accelerants can now be activated by triggering an ultimate command when you don't have a charged ultimate. That will save some distracting menu navigation, especially for controller players.
Apex Legends is still far from perfect, but it's continually getting better and the sustained interest from players is a testament to the developer's efforts. This post covers most of the highlights, but you can read on for a few more details — such as fixes for individual Legends — in the official Apex Legends Fight Night collection event blog post. You can jump in to experience all of these changes when the event begin on January 5 at 1 PM ET.