The Holo-Day Bash event returns to Apex Legends this festive season. This year, there will be a collection of brand-new wintery cosmetics, a new rewards track, a full month of sales, and the return of the Winter Express train battle. The Apex Legends Holo-Day Bash kicks off in-game on December 1.
Winter Express became a quick fan-favorite last year. It's no surprise Respawn Entertainment is bringing back the limited-time mode. However, this year there are going to be some exciting new additions to the runaway train. For one, the train isn't the only vehicle cruising around World's Edge. The supply ships from King's Canyon will also appear.
In Winter Express, three teams battle for control of a moving train. With this year's Apex Legends Holo-Day Bash, your squad will spawn on their own supply ship before the next round begins. The supply ships follow the train, so you don't need to worry about getting left behind. This will give you a chance to survey the battlefield before diving back into the fray. The squad that won the previous round will respawn on the train.
There's also a new station on the train's route called Derailment. This station is the perfect place to flank your enemies and secure the train for your team. Finally, Respawn has changed up the loadouts for better balance and more exciting engagements.
On track for rewards
From December 1, 2020 to January 4, 2021, the Apex Legends Holo-Day Bash rewards track will be available to all players. If you collect enough points during this time, you will receive some fresh cosmetics. There are skins for Bloodhound and Horizon, as well as a very cool frozen wolf Gun Charm.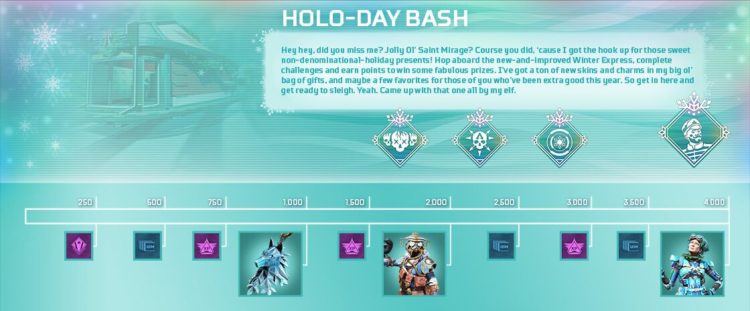 You don't need to wait until next week for the sales to begin. From now until January 4, there will be a new set of items on sale in the store. The highlights in these sales are all-new Legendary Skins for Loba, Revenant, and the Spitfire. Check out a preview of what's in store below.