Ah, the shopping season is upon us once again. There's nothing else that can summarize this special time other than obnoxious commercials, repetitious holiday jingles, and shaky, vertical footage of people punching each other over a discounted turkey baster. But, of course, we gamers are mostly in it for those precious sales on games. This week, Blizzard is celebrating our sick, compulsive shopping needs with sales on games and gear during its Black Friday celebration.
Nearly every game under the Activision Blizzard banner is getting a discount. World of Warcraft: Battle for Azeroth is 20% off on all its editions. Overwatch, both standard and the Legendary Edition, is up to 66% off. Both Diablo III, with its base game and expansions, as well as StarCraft Remastered and StarCraft II (with upgrades) are 50% off. Black Ops 4 is seeing a 20% discount for all its versions. Finally, Destiny 2: Forsaken is being discounted up to 35% off on its base game and all other content.
You can also get 20% off the Virtual Ticket. This includes access to replays from BlizzCon 2018. So, you can relive the magic of the Diablo: Immortal announcement all over again.
Decked Out
Blizzard is also discounting merchandise at its Gear store. There are discounts of up to 75% for many of the clothes, toys, and useless knickknacks you can buy. Now you can finally afford those Tracer leggings you've been dreaming of all these years. They're half off, as is the Overwatch jacket you see below. Might as well pair them with some Mei slippers and complete the ensemble, you freak of nature awesome super fan.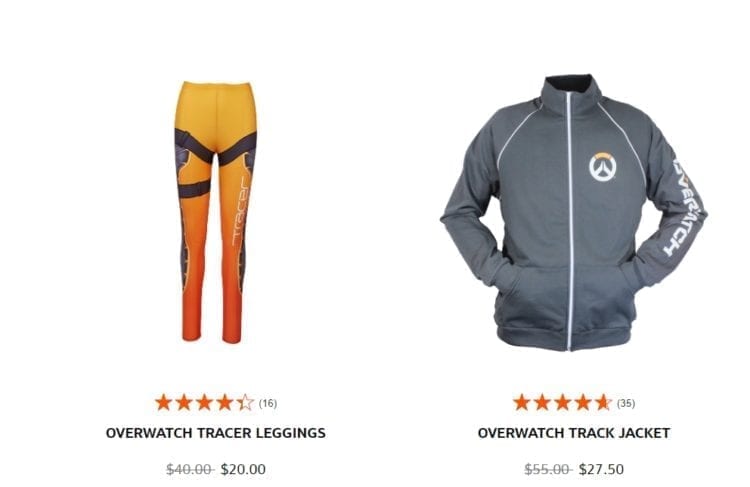 There's more than clothing options. Key chains, posters, coloring books, and more are all discounted at the Blizzard store. Hell, that could be a motto. To check out the sales, head on out to the Blizzard Black Friday page.