RGB addicts, your prayers have been answered. ROG, the high-end gaming peripheral branch of Asus, rolled out a bunch of new products during its CES 2021 presentation. Besides the standard fare of a new keyboard and mouse, ROG is also bolstering its share of the monitor marketplace with an extra large offering.
ROG debuted the ROG Swift PG32UQ, a long, unassuming name for a massive piece of monitor. Coming in at 32′, this monitor is the result of market analysis done by ROG. According to the company, consumers have been leaning more towards larger monitors, and with the launch of new gaming consoles, features like HDMI 2.1 and variable refresh rate are in high demand. The PG32UQ sports both, all with a massive 4K, 144hz IPS display.
Getting more into the nitty-gritty details of this monitor, users can expect even more high-end performance. Along with its other bells and whistles, the PG32UQ sports a 1ms response time, and is NVIDIA G-Sync compatible. It also features variable overdrive to reduce ghosting. Since users of this monitor should be shooting for the highest possible graphical fidelity, it's no surprise that this monitor also sports ELMB sync, which eliminates motion blur.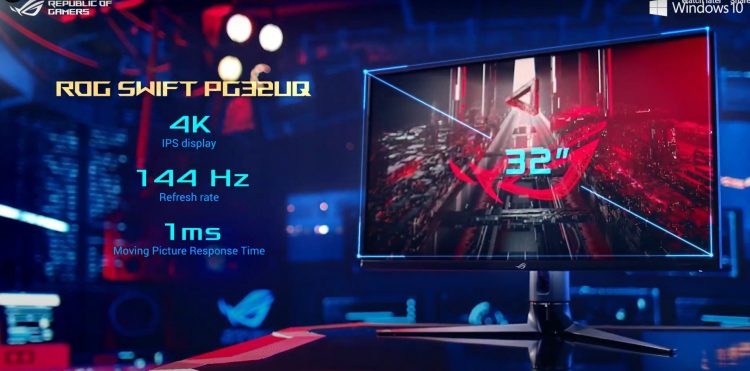 No specific release date has been revealed for the ROG Swift PG32UQ, but a price has been hinted at. A graphic shown during the presentation placed the high-end monitor at above $1,000.
ROG is also introducing a new 1440p monitor, but with an extra kick. The ROG Swift PG279QM offers an experience just short of 4K with the added bonus of a massive 240hz refresh rate. Of course, the PG279QM also ships with a high-end IPS screen and a 1ms response time. This monitor is obviously geared towards gamers that aren't too concerned about the 4K experience and should come at a cheaper price to represent that. So far, a price and release date have not been revealed for this piece of equipment.
RGB for days
In terms of peripherals, ROG brought out two new offerings for any RGB addicted PC gamer. The first new product shown during ROG's CES 2021 presentation was the ROG Claymore 2. While it shares a name with the anti-personnel device, it's anything but. This keyboard is versatile first, and flashy second. It features blue mechanical switches for that clacky sound some folks love, and can be used either wired or over Bluetooth. Its battery size isn't anything to scoff at either, boasting 40 hours of performance off of one charge. The real impressive feature here though is the keyboard's detachable numpad. If more mouse space is required, the keyboard's numpad can be removed and attached to its opposite end, or removed entirely.
ROG also rolled out a new mouse, the Gladius 3 wireless. As its name implies, you can use this mouse either over 2.4 GHz RF, Bluetooth, or wired. The mouse itself weighs just 89 grams, and features two extra buttons on its left side. Below those buttons are strips of inlaid RGB that match the ROG Eye on the mouse's faceplate. For those who enjoy a truly customizable experience though, the Gladius 3 can support either three-pin mechanical or five-pin Omron optical micro switches.