If you're interested in Funcom's barbaric survival game, Conan Exiles, but you haven't tried it yet, then good news: It's free to play this weekend. Simply grab your sword, your loincloth, and head on over to Steam to install the game and give it a try. You'll begin the game left for dead in a relentless desert, and you'll need to gather materials, craft weapons, and build a shelter to survive monsters, enemies, and dangerous sandstorms. You can also enslave your enemies and force them on the wheel of pain.
Freeride
Conan Exiles has seen a lot of updates since it released in Early Access back in January 2017. Funcom has regularly dropped new updates, such as climbing and new zones. And just last week, Conan Exiles had one of its most important updates yet. Take advantage of the free-to-play weekend and give it all a try.
The biggest part of the new update is horses. Fulfill your fantasy as a Cimmerian barbarian wading into battle on horseback, or be a Khitan horse archer and pick off your enemies from afar. In addition to the new mounts, the update added new dungeons, stronger enemies, and more legendary weapons. Also, there are new siege weapons to help you shatter your enemies' walls.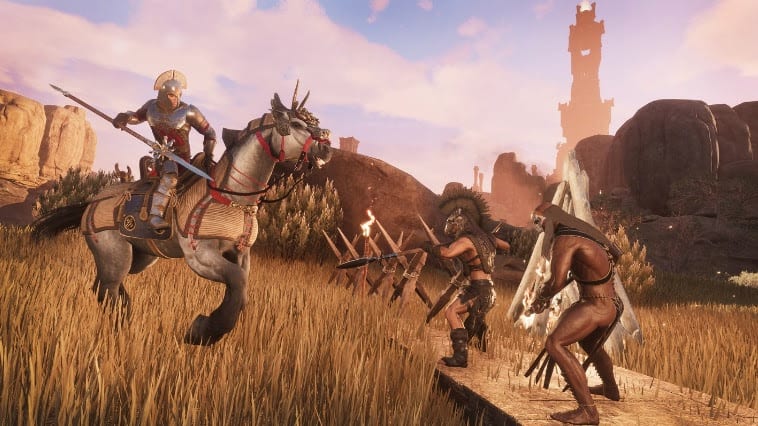 Dominate your enemies
The free-to-play weekend coincides with a new pet and thrall leveling system. In Conan Exiles, you can fill your base with captured NPCs, or thralls, that can perform a variety of jobs such as dancing, blacksmithing, or simply guarding your gates. Now you can level them up. Once you've got everything set up at home, head out to try the newly revamped combat system against other players, or just find more thralls to grow your base.
The Conan Exiles free-to-play weekend will last from today until Monday. You can also pick it up for $15.99, a 60% discount, during this time. And if it tickles your fancy, most of the DLC is also 20% off.