Destiny 2's Season of Arrivals has the new weekly Interference mission. You'll attempt to help Eris Morn uncover the secrets of the Darkness while the threat of Savathun and the Pyramid Ships loom in the distance. In the end, you'll be able to grab pinnacle rewards. Here's our mini-guide to help you out.
Note: Head over here for week 2 of the Interference mission. For more information about the other activities and content for this season, check out our Destiny 2: Season of Arrivals guides and features hub.
Destiny 2: Season of Arrivals – The weekly Interference mission
The weekly Interference mission is part of the introductory quest chain in Destiny 2: Season of Arrivals. The first task lets you obtain the Seed of Silver Wings artifact, beholding the Tree of Silver Wings (or the White Tree of Gondor, as I call it) in one of Io's secret locations. After this, you'll be completing a quest called "Means to an End." This entails finishing a few more Contact public events while learning about the Umbral Engrams and Prismatic Recaster system.
One of the tasks you'll get up getting is the collection of "Umbral Traces" when you're doing a Nightfall Ordeal, Nightmare Hunt, or Crucible control matches. Multi-kills award you with larger amounts of these quest items, so just farm some mobs if you want while using rapid-fire or AoE nuke weaponry and abilities. After you're done with this, the weekly Interference mission will be available and you can start the activity on Io's map.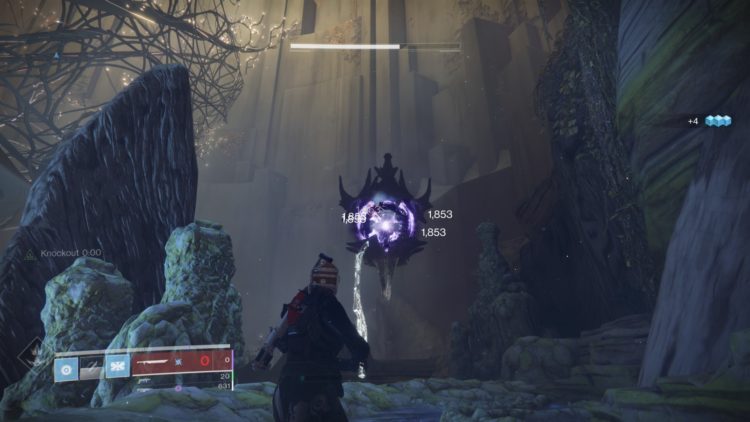 You're taken (pun intended) to the Cradle on Io where you'll find the Tree of Silver Wings. Savathun's Shrieker is still here, but it'll teleport away and you have to eliminate several mobs while making your way up an incline.
Eventually, the Shrieker will float in place and you'll be able to damage it enough. Doing so will teleport you to Savathun's Court (the area from the first mission in Destiny 2: Season of Arrivals).
You'll notice that the central plate is enclosed. To open it up, cross the chasm using the giant pendulums. Then, activate the two plates on the left and right sides of the chasm.
An unstoppable Taken Incendior will spawn in the central area, so take it out and activate the central plate.
The Hive locks on the doorway will disappear and you can now enter the next chamber. Savathun's Shrieker is there waiting for you, and it'll spawn additional mobs such as Taken Wizards, Knights, and even a Gate Lord. Once you've eliminated it, it'll drop an Umbral Engram. If you want, you can do a little cheesing with that Umbral Engram to help you level faster.
Anyway, go ahead and enter the portal and speak to Eris. She'll tell you that there's more that can be learned from these recent developments. It's possible that we'll see an entirely different Interference mission next week, but, who knows?
Oh, and don't forget to head back to the Tower Annex and check out the Prismatic Recaster. You've got your pinnacle drop waiting for you.
---
Destiny 2: Season of Arrivals is available on Steam. For more information, check out our guides and features hub.