Discord has announced its plans to create a new storefront, and as the first step, launched a beta for 50,000 Canadian users. This comes hot off the heels of its announcement of a games tab. Discord Nitro, its subscription-based support service, will also allow access to "Nitro games." This is separate from what's in the store, which Discord claims is "kinda like Netflix for games."
The storefront proper will be curated. Discord states it will "rely on our community and our team to make the store feel super personal and focused on games that we genuinely think you'll enjoy!" It will start out with employee recommendations, and presumably, user reviews will be added.
First on Discord
Discord will scan for games and allow you to run all of them while booting the other launchers/games for you. Another  feature is the "First on Discord program," wherein indie games that Discord helps support financially will be exclusive on the store for 90 days before being sold elsewhere.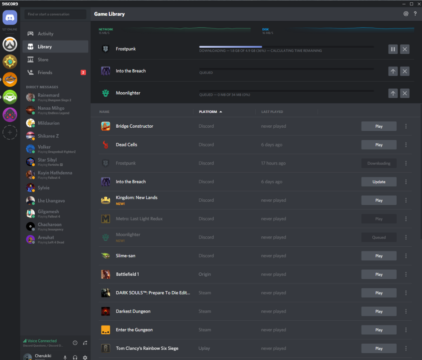 I personally think this is very prudent. Discord has more than 150 million users, and it can tap into that group to support the store initially. The company will be able to have exclusives in the PC market. Eventually, it should benefit from other markets, as well as centralize games usage to make the app more convenient and more likely to get sales/usage,. Perhaps soon it could make a monthly subscription with free games an incentive.
I doubt it'll overtake Steam. But at least it looks like it'll potentially put a dent in the market. With GOG and Discord now edging in on Steams turf, hopefully we'll see positive results from the competition. I'd speculate the move towards this is possibly what pushed Valve to update its own chat system in Steam after years of neglect. Time will tell how the platform does, but I'm hopeful it'll be a net gain for consumers.