Today, EA Motive provided a first look at the upcoming Dead Space remake. During a livestream, Motive's Philippe Ducharme and Roman Campos-Oriola took 40 minutes to discuss what players should expect when they slip on Isaac Clarke's big, stompy boots again — as well as some new changes and surprises. To be clear, there was no gameplay in the stream; the game's development is still in its infancy. Mostly, the livestream was to offer the community an early glimpse (or, "very, very, very early," according to Campos-Oriola) and gauge reactions.
In other words, Motive wants to know what you think of the remake's direction so far. Campos-Oriola and Ducharme explained that feedback has been at the forefront of Dead Space's development. Motive even brought in some fans of the original game to view the "inception phase" of the project and asked for "brutal feedback." Or, as Campos-Oriola put it: "where does it suck?"
The livestream first started off with a look at the improved environments in the Dead Space remake. Motive is using legacy assets from the original game and rebuilding them with more modern techniques. This was demonstrated in a hallway somewhere in the USG Ishimura, with the team comparing the original look to the remade version which uses the Frostbite engine. Starting off with a basic foundation, the team added new layers such as shining, metallic walls, followed by revamped lighting, and finally a layer of mist. It certainly looks creepy and foreboding, but certainly different than the original. And also a hell of a lot less brown.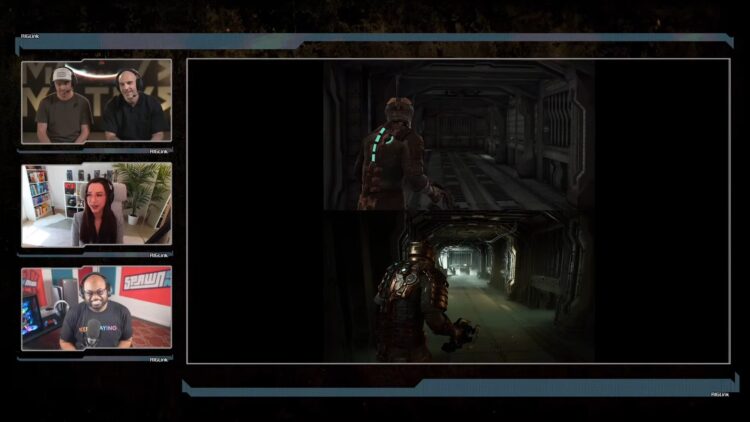 Peel 'em like an orange
While EA Motive wants to stay true to the original experience, it also plans on adding some new twists. The team's, well, motive to create a Dead Space remake is to bring the game into the modern era. Basically, it wants to offer fans a version of Dead Space that only today's technology can create, from new lighting to seamless, loading-free action. The zero-gravity sections will have improved controls, and offer new areas to explore and additional surprises for series veterans. Dead Space's story will remain the same, keeping Isaac engaged in his quest to rescue his girlfriend and uncover the ship's mysteries. However, Motive will tie the game into the expanded universe of the franchise in terms of other games and books. It'll mostly be subtle, such as messages in the environment or in audio logs, but there might be something more obvious in wait.
The combat is also getting a small alteration to its formula. But don't worry, slicing off the limbs of Necromorphs is still the core combat loop. However, Motive wanted to do something kind of special for weapons that aren't designed to cut off limbs. The Pulse Rifle, for example, was more or less just a machine gun that can whittle away foes. In the Dead Space remake, non-cutting weapons will "peel" the flesh off Necromorphs. It's remarkably gruesome, with meat getting stripped off to reveal the organs and skeleton underneath. The damage dealt through peeling is like a health indicator of sorts, and enemies die after enough is shaved away.
On microtransactions, and the return of Gunner Wright
Of course, the team was asked (again) about the dreaded microtransactions. For those who can't recall, Dead Space 3 was plagued with microtransactions, and fans were not in the least bit happy about it. The Dead Space remake, as reconfirmed by Motive today, will not have microtransactions in the least. And that's a good thing.
Perhaps the most surprising change coming to the Dead Space remake is with Isaac himself. In the original game, outside of grunts and screams Isaac was your typical silent protagonist, wordlessly charging onward through a sea of Necromorphs. Isaac was voiced later in the sequels by vocal actor Gunner Wright. Unlike in the original, the new game will have a speaking Isaac, with Wright (showing up in the livestream) returning to the role. However, Motive wanted to stress that it wants to uphold the original's sense of quiet isolation. Isaac will speak only in rare situations, such as when other characters are speaking directly to him.
The Dead Space remake first look livestream covered a lot that's coming to the game. It's still way too early to know when we'll finally have it in our greedy mitts. If you want to check out the livestream yourself, you can find it over at EA Motive's Twitch channel. It runs about 40 minutes long, perfect for an extended lunch break.