---
2016's Forza Horizon 3 just so happened to be the first full-Forza title that I ever played. This came thanks to Microsoft introducing the Xbox Play Anywhere service that same year, which has since brought a variety of first-party releases simultaneously to both Windows 10 and Xbox One. That said, I was absolutely blown away by Horizon 3 and can't thank Microsoft more for continuing with this service.
Even though I've been a fan of racing titles pretty much all my gaming life (since age three, and I'm now 20), no racer has ever impressed me as Horizon 3 has. Thus, the announcement of Forza Horizon 4 earlier this year had me jumping for joy. We all knew it was coming, but it was still amazing to see it in action for the first time. I was intrigued as to how the folks at Playground Games and Turn 10 would follow-up on their last masterpiece. It looks like they've managed to do just so.
While the demo version of Forza Horizon 4 only provides a very small sliver of content (as you'd expect from a demo), it's been enough to convince me that the full package is going to be nothing short of amazing. The demo opens with a progressively transforming race that introduces you to Horizon 4's special new mechanic: changing seasons. It was exhilarating to race through Playground's gorgeous rendition of Britain throughout the four seasons.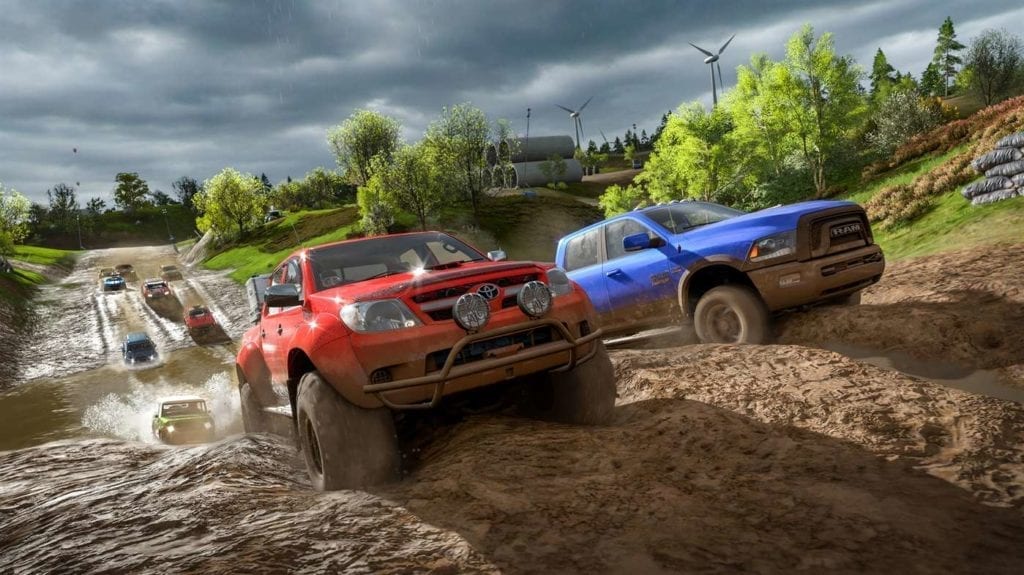 The signature Horizon handling model has been refined, with each vehicle feeling very responsive. The change of seasons has naturally affected driving conditions, and the game is able to adapt seamlessly. Going from the brisk autumn roads in a Mclaren supercar, to snowy winter hills in a racing truck, then muddy spring backwoods in a rally car, before ending in a sizzling summer charge down the highway in the supercar once more all in a span of about five minutes… It all sounds jarring on paper, but the transition here manages to be smooth as butter. Again, this is to be expected—Playground and Turn 10 definitely know their stuff.
After that introductory race, the demo lets you try out a handful of other events during the summer season, teasing you with the incoming autumn release of the game. The included events do a good job of showing off various parts of Playground's take on Britain. The map has a surprising amount of variety, even in a single season. It's a pretty big contrast to the Australian Outback from Horizon 3. Horizon 4's Britain is filled with little gravel paths that meander through the hills (and there sure are a lot of hills), acres of beautiful countrysides, lots of historical architecture, and a healthy amount of asphalt that blends nicely with the surroundings. The demo doesn't allow you to explore the entire map, unfortunately. But the available portion has been incredibly fun to poke around, and it offers some breathtaking sights.
What stood out to me is that there seem to be far fewer obstacles that'll kill your speed. In particular, roadside objects are often breakable. I was plowing through fences and shrubbery with ease, and seeing pieces break and fly all over was oddly satisfying. There are still a few titanium-grade trees here and there, but for the most part, Horizon 4 seems rather lenient when it comes to letting you romp around its open-world without much interruption.
But, I've saved my best finding for last. It's time to talk performance. As great as Forza Horizon 3 was, it had one big problem that plagued several PC players for months: severe optimization issues. At launch, reports of framerate drops, hitches, and freezes were pouring in, even from folks with powerful rigs. It took the developers about six months to iron these issues out. Additionally, last year's Forza Motorsport 7 also had similar performance problems—but those were fixed within a month. Things are better nowadays with Horizon 3, but it's still a little temperamental. In my case, sometimes it works rather well, but even now it will sometimes act up with hitches and stutters. So, what about Horizon 4?
It seems that Playground Games has really learned its lesson this time around, as the game runs beautifully. I didn't run into any of the same issues like what Horizon 3 had. In fact, the game's system requirements are lower than that of Horizon 3, so even more folks should get a chance to play this time around. I rock a Lenovo Y700 laptop, outfitted with a Nvidia GTX 960M (4GB), Intel Core i7 6700HQ (boosts to 3.30GHz), and 8GB of RAM. Certainly no powerhouse, but Forza Horizon 4 has treated it gently using the dynamic optimization set to Medium and a resolution of 1080p. My FPS never dropped below 30. Although, while I do have the in-game limiter set, the game never seemed to obey it, so there would be moments where the framerate would get up to almost 60.
I did run into one performance-related issue, though. Sometimes, my vehicle would be moving faster than the map, so there'd be entire areas missing in front of me. This would bring my car and all AI traffic to a halt for a few brief moments. Horizon 3 had a similar issue, so it could be a bug in the Forza engine. This happened often throughout the demo, so here's hoping they fix it in the full release.
Minor glitches aside, Horizon 4 is shaping up to be a superb racing game. It's perhaps the best of 2018. The Crew 2 wowed me, but it does have some notable flaws. Forza Horizon 4 is oozing with that signature Playground Games x Turn 10 pedigree, so it's definitely a force to be reckoned with. Simply put, October 2nd can't come soon enough.