Character actor, Hollywood darling, and face of a psychotic breakdown Gary Busey is coming to Killing Floor 2. The national treasure is voicing a new playable character, Badass Santa, in the game's upcoming Christmas update. Looks like I'm re-installing the game again.
Naughty or nice, we all deserve the gift of Gary Busey. And developer Tripwire Interactive plans to stuff our stockings when the update launches on Steam this December. The "Twisted Christmas: Season's Beatings" update brings the purchasable character as well as a new Trader, both voiced by Busey.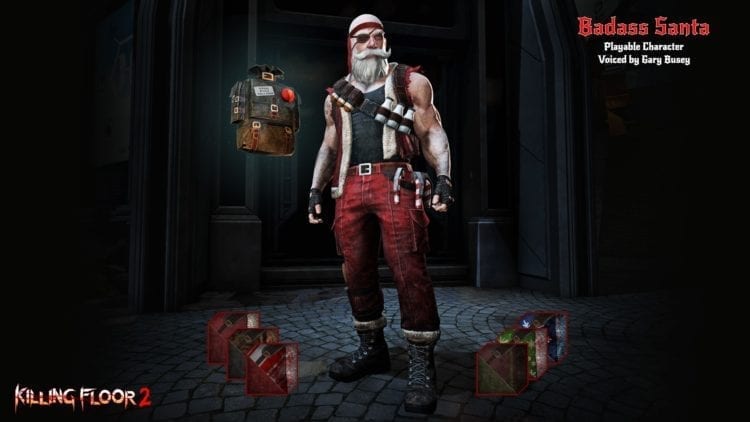 Making A List
Hollywood's favorite walking disaster movie isn't all we're getting. To celebrate more than 3 million units sold, the update also comes with two holiday-themed maps, as well as four new weapons. You'll be able to knock heads off zeds in Santa's Workshop, an objective survival map. There is also Shopping Spree, which is a multi-leveled mall crawling with undead foes. The festive Christmas lights don't improve much on this dark map.
The new class-specific weapons are as follows:
Thompson – SWAT / Commando
Krampus Battle Axe – Berserker
M32 Grenade Launcher – Demolitionist
Fire Axe – Berserker
Of course, you and your team aren't the only ones in the holiday spirit. The update makes all the zeds a tad jollier to go along with the seasonal theme.
Finally, the developer announced a cross-promotional event with Road Redemption. If you own both Killing Floor 2 and Road Redemption on Steam, you will get a free chained bat, The Road Redeemer, for the Berserker class.
The beta for the Christmas update begins today. It runs until November 23 and includes all the content listed here. There are only a few exceptions. Neither themed cosmetics nor event tickets will be available, and the same goes for some crates. For more information on Killing Floor 2 and the upcoming update, hit up the Steam page.