The EGPU is an interesting concept that manufacturers continue to play with. It essentially offers a desktop-like GPU experience while running off of a laptop connected via a Thunderbolt 3 cable. The EGPU itself is an enclosure similar to an ITX-style compact desktop case. The key difference is that it only houses a power supply, GPU, and the necessary cooling and interfaces. Your laptop does the rest via that fancy Thunderbolt cable. This makes it an interesting configuration, because it allows laptops to render much better graphics than the internal GPU might have ever been capable of. In this case, you could attach a Gigabyte RTX 3080 EGPU to a laptop with a decent gaming CPU and see some incredible gains.
Gigabyte just launched its latest lineup of EGPUs, incorporating the RTX 30 Series and even water cooling into its designs. It sounds a bit extra, because it probably is. Gigabyte is actually calling it the world's first water-cooled external graphics, after all. However, it doesn't seem unreasonable to demand some quality 4K performance out of an equipped laptop. Gigabyte advertises that it can handle ray tracing and other GPU-intensive tasks like 3D modeling, all while staying cool and quiet.
An impressive idea, no less
The Thunderbolt 3 interface still sees its limitations in high fps gaming due to the bandwidth constraints, but this is a type of product that might gain serious traction in the years ahead. Mobile CPUs are growing more impressive by the year thanks to AMD's Ryzen chips. Intel's new Tiger Lake processors are finally getting the nod of approval from customers too. With all the progress we can continue to expect, it seems graphics could remain GPU-bound for years to come.
That makes these EGPUs ideal for those with capable laptops that want to kick things up a notch in the graphics department while at home. EGPU setups also do away with the need for large desktop enclosures and the requirement of building a second full system just for high performance gaming.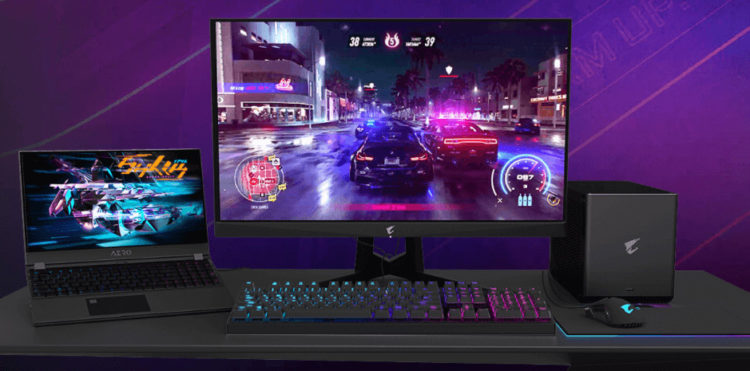 Gigabyte has been making EGPU enclosures for a few years now, but this one with the RTX 3080 is sure to be the best yet. Another nice thing about these setups is that you can swap out the GPU as better products emerge. It really will be interesting to see what happens once the Thunderbolt bottleneck becomes less of an issue as bandwidth improves in future iterations of the technology. Until then, you can expect to see some performance loss when using this interface versus PCIe. Fortunately, the limitations become less of an issue as you increase resolution. This might not be what you envision when you think of laptop 4K gaming, but it's still equally cool. You can thank the 240mm radiator for that temperature pun.
You can learn more about the Gigabyte RTX 3080 EGPU Gaming Box on the official product page. Pricing has yet to be announced. You can also find more details about the Gigabyte Aorus RTX 30 Series lineup here.