While most consumers are probably just happy to get their hands on any new Nvidia GPU, it's still exciting to see the exotic options emerge. Gigabyte has announced its Waterforce lineup for the RTX 30 Series and it sounds like it will deliver excellent cooling options for the hot Ampere cards. The Waterforce lineup will also include some bells and whistles like custom RGBs and a leak-detection system so your GPU is both easy on the eyes and the mind.
Gigabyte will offer two Waterforce options for each of the Nvidia cards: the water block or the factory-sealed AIO combo. Custom system builders will definitely spring for the former, as it will allow for custom tubing to be synced up to it. Less ambitious consumers who prefer convenience and just want to plug and play will want the AIO hybrid combo. Both models will provide the same relative benefits though, so you can feel assured of your selection no matter the choice.
Covering all of the bases
Gigabyte also detailed that the Waterforce designs will cool the GPU, memory, and other critical components. Thus, overclockers will have more options for demanding more performance out of their cards. However, normal users will also see the benefits of better boost clocks. The new 240mm coolers will provide double the surface area over the previous generation, all while keeping quiet with dual fans.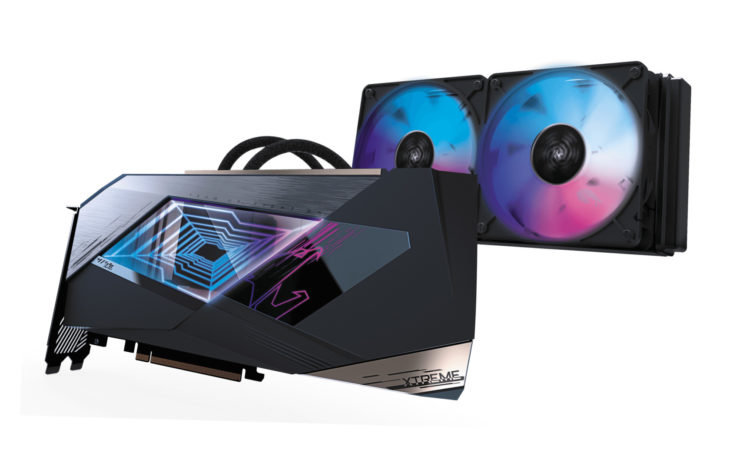 The leak-detection system is another cool perk, which will indicate any problems via a flashing light on the card. As far as the RGBs, you can tune them via Gigabyte's Fusion 2.0 software. There are lights on both the board and the cooler, so you can make your computer the ultimate cyber machine.
One of many
Gigabyte seems to be ahead of the competition with its Waterforce water-cooled lineup, but we know MSI, EVGA, and other AIBs have designs in the works. While Gigabyte has announced its water-cooled lineup though, we don't know exactly when it will go on sale or what the pricing will be. Currently just the waterblocks are listed on the manufacturer's website, but there's no clear way to get it as the partner links often dead-end in general RTX 30 Series categories. All of which are still sold out, we might add. Still, we can expect to see these products flow into stores in the near future. If you are patient, you'll eventually score one and your GPU will thank you for how cool it feels.
You can read more about the Gigabyte Waterforce lineup in the official announcement post.