Steam, Battle.net, GOG, Origin, Uplay, Discord, Epic, Kartridge, and so on ad nauseam. Do we really need half a dozen launchers to download and play games? Sure, we understand the need for dozens of storefronts. Companies have their vested interests to keep 100 percent of profit rather than the standard 70 percent on Steam. However, for the past few years, we've also seen launchers popping up for all these new storefronts. Some of them are becoming walled gardens.
As PC gamers, we value accessibility and a clean stroke of Occam's razor. I've often thought about a single unified launcher that could access my games from all these different storefronts. And that's the whole premise of GOG Galaxy 2.0, which is currently in closed beta. It's an ambitious idea, and it might be very difficult to get all these companies to collaborate, like herding cats. Difficult, but not impossible.
In fact, Microsoft is already on board, and Xbox Live already has an official integration within GOG Galaxy. Popular community integrations include Steam, Origin, Uplay, Epic Games Store, and even PlayStation Network. Well, obviously, you can't launch PlayStation games with it. For now, the point of GOG Galaxy 2.0 is to integrate not just all your game libraries on different platforms, but also your friend lists, achievements, and whatever data you end up accumulating that way. Let's take a look at what you can and cannot do with the launcher so far.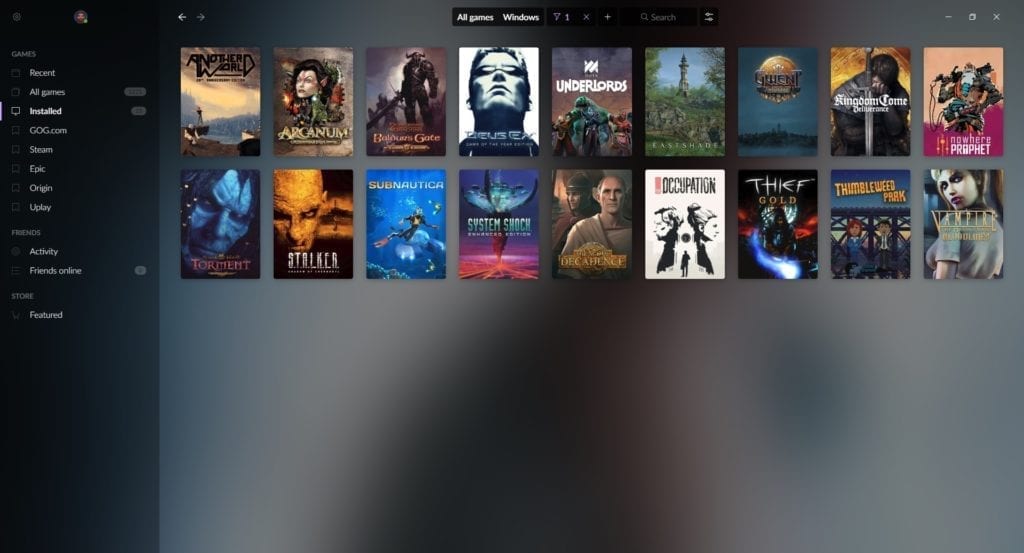 GOG Galaxy 2.0 or GOG Universe?
First of all, it might be best to manage your expectations. You'll still require the other launchers installed to download, launch, and play games from your other libraries. For now, all you can do is import your libraries and use GOG Galaxy to keep track of how many games you own and how many achievements and hours you have in total. If you have any friends on the closed beta, you'll be able to see stuff like their Xbox Live achievements in the Activity section as well. Apart from that, the features you're probably expecting will take a while to develop and refine.
GOG also released a GOG Galaxy Integrations Python API on GitHub, which will allow developers to easily build community integrations for various gaming platforms. Most major popular ones are already automatically included when you install GOG Galaxy 2.0. That would be Steam, Origin, Uplay, Epic Games Store, and PlayStation Network. Battle.net isn't built in like those, but you can download a community integration. Then you just need to unzip the folder in %AppData%\Local\GOG.com\Galaxy\plugins\installed\battlenet, and it will show up in the manually added section of your community integrations.
Working out the kinks
When you connect an integration with one of those platforms, you'll have to supply your login information and probably even verify your identity with two-factor authentication, just as you would in any new browser. And that's essentially what GOG Galaxy is right now, a glorified browser to keep track of all your game information in a single launcher. There are also probably some inconsistencies. For instance, my Battle.net, as you can see above, includes only Destiny 2, Diablo III, Hearthstone, StarCraft II, but it doesn't show that I also own Diablo II, which is a Classic Game in Battle.net.
Obviously, this is still very much a closed beta with a lot of stuff that might be missing. If you look at your list of Steam games in there, you might notice it will also include other builds of certain games you own. For instance, for some reason, I own both For Honor and "For Honor – Public Test," so it's counting two games instead of one. If you look under Steam's hood you'll notice this happens occasionally with multiplayer games especially. So your total game count might be a bit off. Still, this is a minor issue that doesn't really affect much.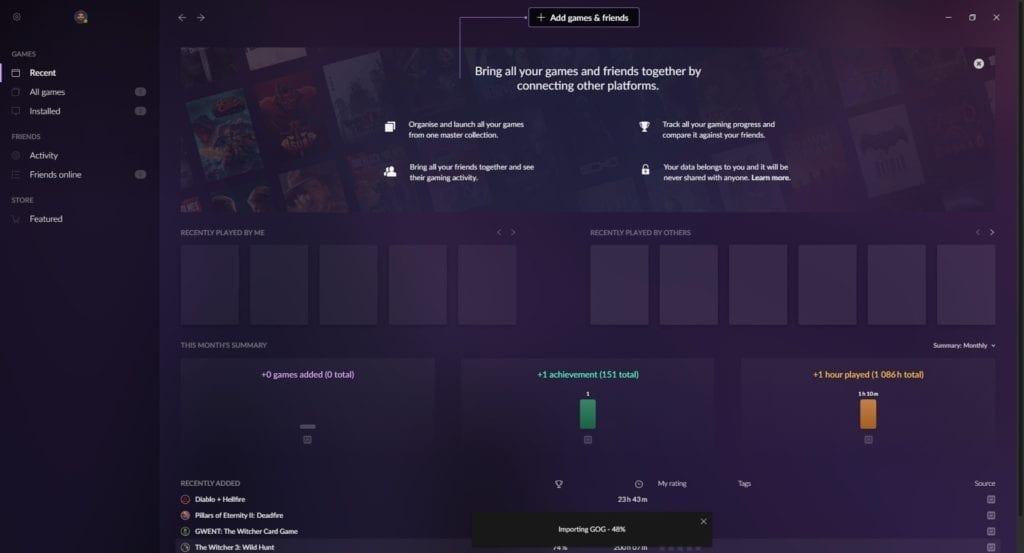 Integration is easy-peasy
The beta already includes a bit of a tutorial, so you should have no problem importing your libraries. Depending on how big your Steam library is in particular, it might take a while. If you are in the thousands of games owned, you might as well leave it on for the day while it's importing. My 700+ Steam library took about two hours, I'd say, and there were no issues or errors. My 300+ GOG library took a little over half an hour. And my other very small libraries on Origin, Uplay, and Epic took less than 10 minutes.
You won't get your categories and other such customization from Steam. If you have a super neat and organized Steam library that you cherish as-is, you won't like to see your library all jumbled out on GOG Galaxy. However, it's possible that GOG will start taking this kind of user input into account when it integrates, as it's the kind of accessibility that PC gamers value after all. For now, however, all you can do is group your games by tag and platform. You can also sort by name, activity, and by whether it is installed or not.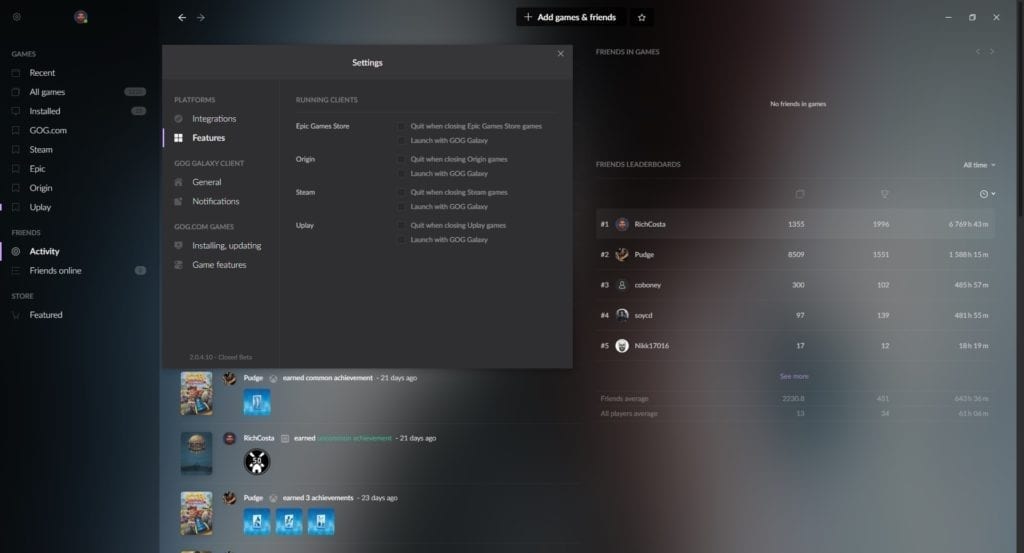 GOG Galaxy 2.0 upcoming features
As you can see above, there are some integration features for Steam, Origin, Uplay, and Epic Games Store. Namely, you will be able to quit those launchers when closing the games in them, and also launch them directly with GOG Galaxy. These features are not yet available. When you click on the checkboxes, a little prompt pops up saying, "Feature coming soon." There's no other information or release window for those features yet, but I'll take "soon" for now. I admit I was expecting to be able to uninstall the Epic Games Store launcher when I first installed GOG Galaxy 2.0, so I was disappointed.
Still, I'm excited for what GOG Galaxy 2.0 represents, as it's something I believe is long overdue, and it just might mean a real revolution for PC gaming. Hopefully, all these companies will collaborate with GOG instead of finding ways to wall off their platforms. After all, it's not hurting anyone, and we'll still be able to access their storefronts to purchase exclusive games. It's the free market after all, and companies want to maximize profit, which is fine. We just want to be able to uninstall all these extra launchers and stick with one or two for our main favored platforms.
What do you think of GOG Galaxy 2.0? Did you manage to get an invite for the closed beta? Are you looking forward to trying it? Drop your comments below. Tell us what you think!