Tamara Vidal gets offered poisoned wine
As far as I know, you can only do this if you rerun the level and start from the tasting room (Agent 47 will be dressed as a waiter). Ideally, you should bring a vial of lethal poison with you. It can be unlocked by reaching mastery rank 10 in Berlin/Apex Predator.
"Notes of Hemlock" assassination challenge – Anyway, as soon as the run begins, head to the staff room to Agent 47's right. You'll find the bottle of Pinot Noir here. Return to your original spot and place the bottle there. You should get the prompt to serve Pinot Noir to Tamara Vidal once she and Diana Burnwood arrive. Don't forget to add lethal poison into your concoction.
To clarify, the other sources of lethal poison have been discussed in our guides for The Tour and Closing Statement mission stories. However, trying to get these might take you a while and Vidal would've already left the wine tasting area.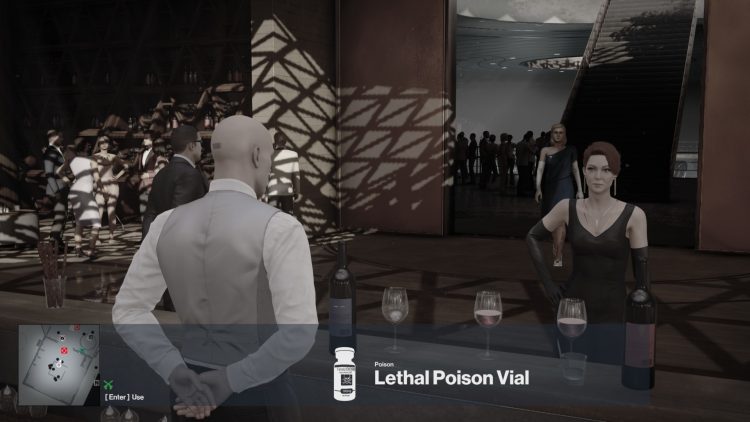 Likewise, if you don't have "Hold My Hair" yet, go add emetic poison instead. Follow Vidal to the bathroom and drown her there.
Okay, let's talk about some asado cooking and electrocuting Archibald Yates.