Insurgency: Sandstorm is getting a huge update this week, as Operation Breakaway arrives on PC. The 1.8 patch introduces a new co-op mode, a new map, new weapons, new cosmetics, and more. A new, in-depth trailer shows all of this off as it launches, and there's a lot to go at for Insurgency: Sandstorm fans.
Naturally, the new mode is probably the biggest change coming in Operation Breakaway. Outpost is a new co-op experience, where players must defend segments of a map to defeat AI waves. If your team doesn't survive the enemy onslaught, you'll be forced to retreat to another area, defending an objective. After enough retreats, you'll lose the match to your AI opposition. There's an economy system in play too, where you'll have to earn supply points to get hold of better equipment.
Bringing the content
Speaking of which, Insurgency: Sandstorm Operation Breakaway delivers new equipment in spades. The AUG A3 joins the weapon roster for Security, while the Insurgents can get their hands on the Famas F1. Patch 1.8 also brings new foregrip options for weapon attachments, alongside three under-barrel shotguns choices, depending on your side. There's the Masterkey, the M26 MASS, and the 40mm Buckshot Launcher.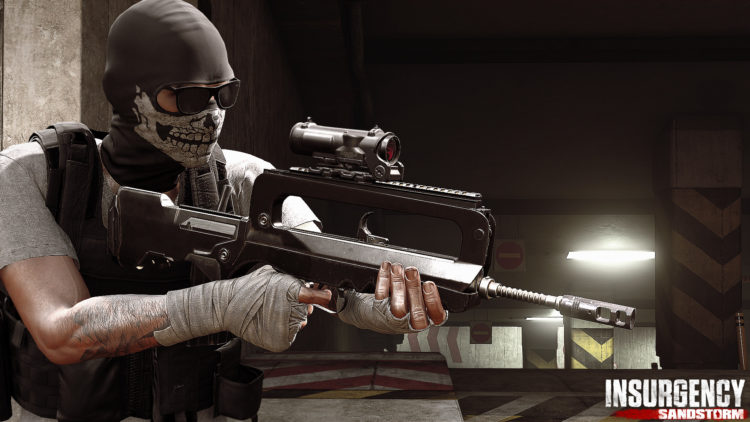 Of course, being an online shooter, new maps are always welcome. Operation Breakaway only delivers one, but it looks like a great addition to Sandstorm's selection. Tell is a tight knit urban map that focuses on close quarters combat, but the team says they've made sure the map still offers plenty of navigation options.
It's 2020, so cosmetics are also here in full force. There's a free set of character and weapon customization options for both factions, alongside paid DLC packs for those who want to add a bit of flair. In total, this is a massive update for Insurgency: Sandstorm as the game nears its two year anniversary.
Insurgency: Sandstorm Operation Breakaway is now live on PC.