John Wick Hex will be coming to the Epic Games Store, and despite being a movie-licensed game, it actually looks pretty neat.
Firstly: no, it's not a first-person shooter. It's described in the announcement as both "fight-choreographed chess" and a "fast-paced action strategy game." Hard details are sparse, but the screenshots and trailer make John Wick Hex look sort of like the unholy lovechild of Hotline Miami and Frozen Synapse. Fast and brutal, but not an action game.
You'll be taking on the role of the titular hitman from a tactical point of view. Every action you take, from moving to attacking to reloading, takes up valuable time. Managing exactly what actions to take and when is going to be crucial to surviving the gun-fu battles in which you'll find yourself. With limited ammo, a variety of different weapons with different uses and detriments, and plenty of people trying to give you, thinking seems to be the order of the day in John Wick Hex.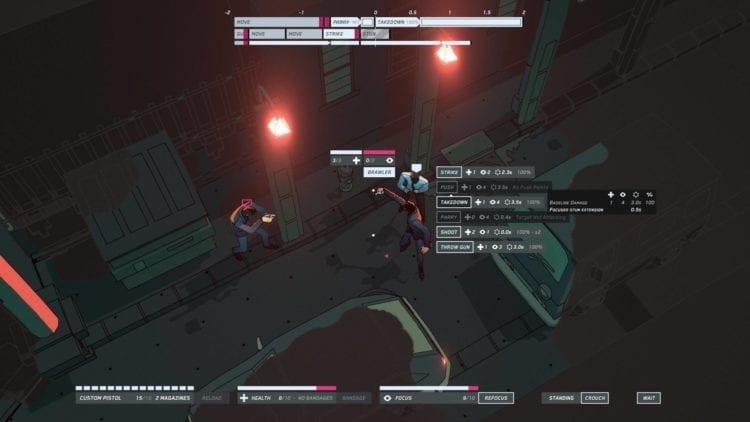 I'm Thinking John Wick Is Back
The animations that play out during your battles have been created in cooperation with the creative and stunt teams of the films, so John Wick Hex should at the very least look and feel pretty authentic. The stylised, noir-ish graphic novel visuals should also help out a bit with that, as will the voice talents of Ian McShane and Lance Reddick (Winston and Charon, respectively). The rest of the voice cast has yet to be announced, though I'm going to guess we probably won't be hearing Keanu Reeves. And the story? Well, it won't be based on any of the films, but will instead be a brand new tale. I imagine this means the game will be set before the films, but we'll have to wait and see.
To me, one of the bigger surprises is that John Wick Hex is coming from game director Mike Bithell. Bithell is certainly an indie darling, but his recent games (Thomas Was Alone, Volume, Subsurface Circular) tended more towards the minimalist and artsy side of things, so this feels like a bit of a departure for him. Then again, he did work on Dead to Rights: Retribution back in the day, so violent gunplay isn't entirely new to him.
You can check out the announcement trailer and the first screenshots for John Wick Hex below. There's currently no word on a release window, but if I had to guess, I'd say we'll be seeing Mr. Wick towards the end of 2019 at the earliest. And yes, it's an Epic Games Store exclusive.