Jump Force is gearing up to be quite the star-studded game, and it's just announced another pair of characters. Bandai Namco Entertainment released another trailer featuring iconic manga series Saint Seiya. Pegasus Seiya and Dragon Shiryu were the main focus, showing off their powerful abilities.
For those who aren't familiar, both of these characters are members of the Knights of the Zodiac. The Knights of the Zodiac are actually a group of handpicked warriors who have pledged to protect justice and peace across the world.
Saint Seiya Background
Saint Seiya first made its debut in 1986 in Shonen Jump and ran weekly until 1990. It follows five mystical warriors called the "Saints" who fight wearing sacred armors called "Cloths". Their designs are inspired by the various constellations, and the characters have adopted these as their destined guardian symbols. The Saints have sworn an oath to defend the reincarnation of the Greek goddess Athena in her battle against other Olympian gods, who want to dominate Earth.
Saint Seiya has been so successful, it boasts over 35 million copies sold as of 2017.
The Characters
Pegasus Seiya is the Saint of the Pegasus constellation. He is most known for his unbending resolve and unbreakable mind.  Seiya is able to call upon the power of the Gold Cloth of Sagittarius, increasing his strength to its ultimate limit. He is sure to be a powerful character indeed.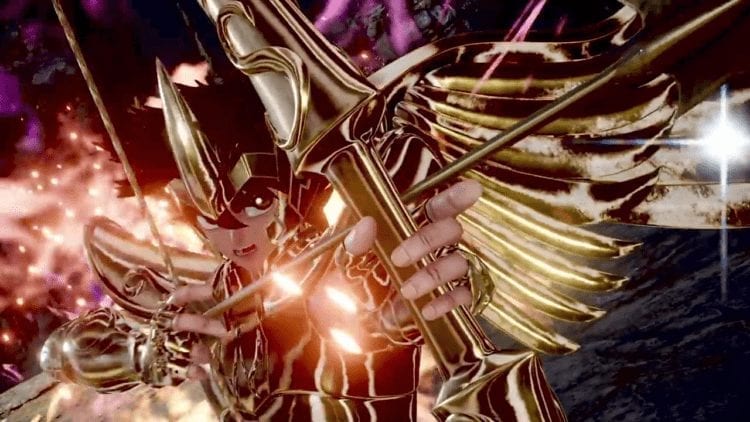 Dragon Shiryu is protected and guided by the Dragon constellation. Shiryu is one of the calmest and most composed of all Saints. He is also one of the few Bronze Saints deemed worthy of wearing the Gold Cloth. When he needs to, he can summon great strength from the Libra Cloth, using its many weapons to defeat his foes.
Bandai Namco Entertainment also released a new stage, Mayan City, where players will be able to duke it out in ancient Central American ruins.
The previous announcement of Yami Yugi from Yu-Gi-Oh! already upped the hype for this game. From the reaction I witnessed on the show floor at New York Comic-con, players loved trying out Jump Force. You can play Jump Force for yourself when it launches on February 28, 2019.