Gamescom just began its all-digital event yesterday, and already we have seen big news across the industry. Fighting game fans got a treat today as a brand new King of Fighters XV gamescom trailer dropped on opening night. This trailer clocks in at almost five minutes, and has a lot of important information for the next entry in SNK's flagship fighting franchise. This King of Fighters XV trailer not only confirms the release date, but the inclusion of rollback netcode.
We now know that the initial launch roster of the game will boast 39 characters too. King of Fighters XV will be bringing back the classic 3v3 gameplay the series is known for, meaning there will be 13 teams in the game. Earlier in the week, some promotional artwork for the game leaked online, which confirmed the return of Heidern and Ash Crimson. The trailer backs up this information, along with revealing two new female characters. One is a headphone-wearing girl who seems to have it out for Shun'ei, as well as having similar powers to him. The other is much more mysterious and seems to be an antagonist, or at the very least pulling the strings of the story.
Then, finally, after months of character reveal trailers, we got a chance to check out some actual gameplay. MAX Mode returns, and appears to function similarly to how it has in previous entries. MAX Mode (Quick) lets you cancel into MAX Mode after a special move, allowing you extend your combos. Shatter Strike is a defensive move that lets you block an attack and retaliate, similar to Alpha Counters in Street Fighter.
Get hype
In the trailer, Iori's Shatter Strike causes a crumple stun, and Kyo's causes a wall bounce. It is unclear if each character will have a different Shatter Strike, or if each outcome requires certain conditions. Shatter Strikes can be followed up for extra damage as well. Rush combos appear to be this game's version of auto combos, allowing you to perform extended combos with just one button. The game also has multiple different versions of special moves, each increasing in power and (presumably) meter usage. There are EX Special Moves, Super Special Moves, MAX Super Special Moves, and Climax Super Special Moves.
After this brief gameplay demonstration, we got confirmation on the one thing that we have all been wanting to hear. The King of Fighters XV gamescom trailer confirms that the game will have rollback netcode. The game will also feature multiple different online modes including, ranked, casual, and a new draft vs. mode. The latter is a mode where you have to select your characters quickly before your opponent does. This adds a neat layer of mind games to the character select screen, which we really haven't seen before.
The game will also feature an online training mode, which is something fighting game fans have been asking for from more games for years. Now, you and your friends can lab it out whenever you want, for as long as you want. Just like rollback netcode, I hope this becomes a standard feature moving forward. The Gallery Mode will feature the standard selection of character artwork and voice clips. There will also be a special animated short directed by the legendary Masami Obari, the director of such 90's classics as the Fatal Fury animated movie.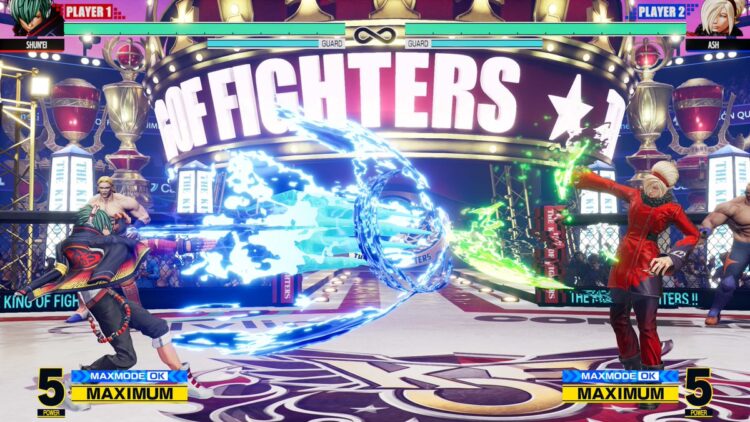 It's rollback time!
Then, to top all of that off, the DJ Station features over 300 songs from across SNK's vast library of games. This doesn't just include songs from the King of Fighters series, but also Samurai Shodown, Metal Slug, and more. All of these can be added to your normal rotation of in-game music. At the very end of the trailer, we also get the official release date for the game. King of Fighters XV will release on Steam and the Epic Games Store on February 17, 2022.
The Deluxe Edition of the game will come with a season pass that contains the first two teams of DLC characters, for six characters in total. The physical Day One Edition of the game will also include a code for a Garou: Mark of the Wolves costume for Terry. If you opt for the digital version though, you will receive a classic Leona costume, which is still being designed. The DLC character passes will also be available for separate purchases, $15.99 for each team individually, or $29.99 for both. You can wishlist the game right now on Steam, before pre-orders go live.