As if Fortnite couldn't get any cooler, a new leak suggests that retro-inspired skins are headed to the game. According to a report on Gamebyte, amazing skins, gliders, and new emotes are coming soon. We know players love to make their characters look truly their own and these upcoming extras should definitely help with that.
Data miners Xda-Developers found the following list of new skins in  Fortnite's 5.2 update patch :
Celestial (Male)
DurrburgerHero (Male)
Exercise (Male)
Exercise (Female)
Fuzzy Bear Panda (Female)
Street Racer White (Female)
Street Racer White (Male)
Sushi Chef (Male)
Reddit user XplosiveCows provided the actual images of the skins. Also revealed are matching gliders for the Street Racer, Durr Burger, Panda, Sushi Chef, and Exercise skins. New emotes also according to the game files are Aerobics, Chug, Llama Bell, Hot Stuff and Pump. Epic Games is expected to release a new patch sometime this week.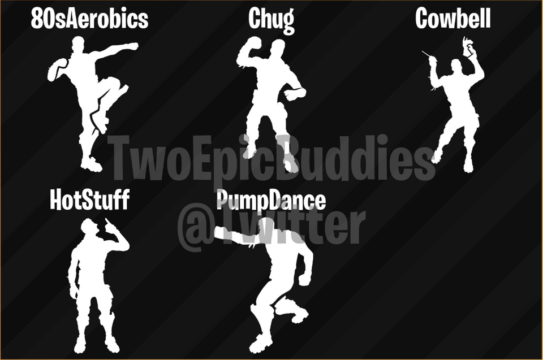 Another important thing to note is that new modes seem to be coming. Found in the leak are files pertaining to "Steady Storm," "Taxes," "WW," "Bling," "Deimos," "Gameplay Mutators," "Impact," and "Sky Supply."
This should add even more hype to a game that seems unstoppable. In the last year, Fornite's become one of the most played — and most profitable — games in the world. Personally, I like the retro look for the Exercise skins. Unfortunately, there's no actual date for when the patch or when these extras are expected to go live as of writing. What do fans think of this latest Fortnite leak? Will you be purchasing these skins and gliders?  Do you think Fortnite should stop adding so many skins? Or is having more better? Let us know if you plan on checking them out.